Wrist-Device for Real Time Stress Tracking
October 16, 2007
A team lead by Thomas Kamarck of the University of Pittsburgh, an expert on measuring [psychosocial processes](http://pmbcii.psy.cmu.edu/core_c/index.html), is working on the type of wearable computer that I most want: a wrist-worn device to track physiological change in real time. The emphasis in this study is on psychosocial stress, and the device will measure sound, motion, ambient light, skin temperature, and "other factors." I'll post more information about the study when I have it.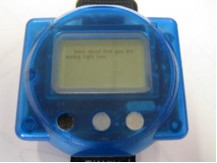 The purpose, as far as I can tell from [the press release](http://mac10.umc.pitt.edu/m/FMPro?-db=ma&-lay=a&-format=d.html&id=3068&-Find), is to begin to understand what kind of data are useful in tracking stress and predicting the onset of stress-related health problems. One of the most interesting elements of the (poorly named) "eWatch" is that it includes an interview module set to question wearers at timed intervals about their stress level. This may seem redundant. If you have the right automatic measurements, why put a demand on the wearer's brain as well? But I think this interview element could be the "secret weapon." In training ourselves to gain more control over normally unconscious processes and states, tools that remind us to check-in with ourselves at regular intervals will be useful. An eWatch, no matter how sensitive, will never be able to control our brain, it can only encourage us to notice our brain state, giving us a chance to intervene.
What interventions work best? At what pace should reminders come? What are the best physical indicators to track? The fact that [Kamarck](http://www.psychology.pitt.edu/people/faculty/kamarck.php) and colleagues are beginning to do rigorous studies with a device like the eWatch could bring us more clarity.