June 22, 2009
You "own" your own health data. That is clear if you generate it yourself, as self-trackers do. But even when others generate health data for you, you should have full access and "ownership" of it. They are only "borrowing" the data.
But not every health care provider makes it easy to get cheap access to the quantified data about your body. Therefore an explicit declaration that everyone should be legally ensured of that access is a good thing. It has no legal binding, but if enough people endorse it, and pledge to honor it, and make a point of patronizing those doctors and health providers that also honor it, then maybe it can become something to enforce.
Here is what such a declaration of health data rights might look like, as developed by a volunteer group of doctors, providers, professors, journalists, and bloggers. I was happy to see an early version and sign the endorsement. Consider this declaration a beta version. There are just four simple, hard to deny claims:
We all
Have the right to our own health data
Have the right to know the source of each health data element
Have the right to take possession of a complete copy of our individual health data, without delay, at minimal or no cost; if data exist in computable form, they must be made available in that form
Have the right to share our health data with others as we see fit
The growing list of endorsements for these essential claims can be found at Health Data Rights. Add your signature if you think these rights to be fundamental for a 21 century health care system. You can also add your endorsement by sending a tweet to #myhealthdata.
Next step: If you are a health care provider who generates or captures health data of patients, and you honor these rights, then place a badge or announcement declaring you do. It will help shame others into getting up to speed.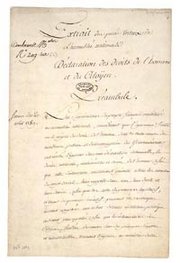 This is is not quite the same thing as the handwritten copy of the Declaration of the Rights of Man and of the Citizen (1789)  but it is agreement with the older document's aim to establish rights that will seem intuitive to later generations.