Conference Preview: Kostas Augemberg and the Quantified Summer
August 14, 2013


If you've followed along here on the Quantified Self website or attended a meetup in your community you know that self-tracking isn't limited to using gadgets or apps. Some of our most interesting talk come from individuals who are exploring their lives through the lens of personal data collection. That is, data that and methods that are very personal and specific to the individual. Kostas Augemberg is no exception. We've already posted a great talk by Kostas that describes what happened when he asked himself, "How can I track my happiness?" and we're excited he will be joining us at the upcoming 2013 Quantified Self Global Conference.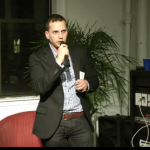 Kostas is a statistician and has been on a personal quest called Measured Me for the past year. His goal along this journey is to help develop a personal holistic system to help him "improve and understand his life." Over this past year he's taken a deep dive into exploring what it's like to track subjective and objective wellbeing. These include tracking data in areas like "Existential Wellbeing", "Living Well", and "External Factors" among others. Suffice to say, this is an ambitious project!
At the conference Kostas will be sharing insights and results from his "Quantified Summer" project during which he attempted to capture his holistic and comprehensive wellbeing for 100 days. This includes tracking the following variables: Happiness, Life Satisfaction, Physical Health, Physical Energy, Stress, Emotional State, Alertness, Executive Cognitive Functions, and Sleep Quality at regular intervals each day for 100 consecutive days. We're excited to learn about his tracking project and can't wait to hear more! If you would like to follow along before the conference Kostas invites you to monitor his progress on his Lifestream dashboard.
The Quantified Self Global Conference will be held in San Francisco on October 10th and 11th. Registration is now open. As with all our conferences our speakers are members of the community. We hope to see you there!