Crowd-Tracking Noise and Air Pollution
July 29, 2010
A new noise/ozone sensor watch being tested in Europe.
Quantified Self enthusiast David Purdy asked me one day, "Why aren't people measuring simple ambient things like background noise?"
I didn't have a good answer at the time, but I do now. It turns out a project in France is doing just what David suggested.
In May 2009, some residents of Paris were given
La Montre Verte
("The Green Watch"). The watch is actually a watch, and it also has two sensors to detect noise levels and ozone levels, a GPS chip, and a Bluetooth chip.
As people went about their day, the watch recorded the noise and ozone in their environment. The data was transferred to a companion mobile phone application, regularly uploaded to a central server, and crunched into maps like this: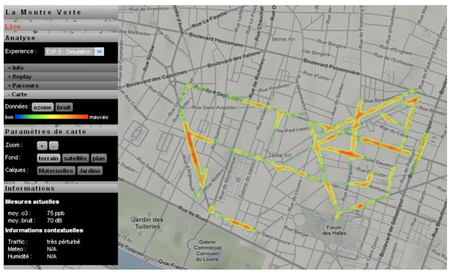 The objective is to multiply by 100 or 1000 the number of environmental sensors and involve citizens in environmental measurement.

With partners in UK, Netherlands, Belgian, Swiss and French, the "Green Watch" will soon be deploying large-scale experiments in Manchester, Amsterdam, Geneva and Paris.
It's a great example of people combining self-tracking data for a greater understanding of how we collectively impact each other. Similar crowd-tracking efforts are happening in health, for conditions like asthma and depression.
What if more kinds of self-tracking data were aggregated and analyzed? Wouldn't the new insights and awareness coming out of these collectives have the potential to massively increase our well-being? As long as privacy is not compromised, I don't really see a downside to this increased awareness.