Do You Want to Experimonth?
March 30, 2011
This is a guest post by Beck Tench: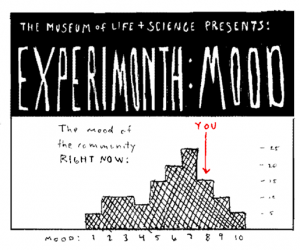 This Friday begins a month-long participatory blogging project at the Museum of Life and Science, where I work, called Experimonth – and QS'rs are invited to participate.
Experimonth, which started as a personal project for me in 2008, has morphed into an effort to bring scientists and citizens together through data collection and blogging. For our first experimonth as a museum, we'll be focusing on Mood and working with Frances Ulman, Ph.D., a clinical psychologist doing her post-doctoral research at the University of North Carolina at Chapel Hill.
Here's how it'll work:
We'll text you five times a day (10a, 12p, 3p, 5p and 8p Eastern) everyday in April and ask you to rate your mood. You'll text back a number 1-10. We'll chart your mood over the day, week and month via realtime visualizations on our website. You'll also have complete access to download the data and visualize it/share it.
At the beginning of every week in April you'll receive an email with a weekly mission – a list of activities, of which you must select and complete one. There will be a theme for each week: senses, friends, exercise and strengths/gratitude. Some examples of possible activities are: "Get coffee with a friend" or "eat your favorite food" or "watch the sunset" or "write a letter to an old friend." You'll have the entire week to complete your chosen activity and report back on how it went with our brief reporting system. We'll discuss how different types of activities affected mood for participants on the blog and in an in-person wrap-up event (if you're local to NC).
We were very thoughtful in designing this study to maximize each individual's experience. To stay true to this goal, some small changes were made from traditional study designs, such as not using a control group. We also want to keep it simple to keep the experience from being too burdensome. So while it's not the very best design possible to yield scientifically reliable results, we do think it'll be a cool way to learn about our own moods and have interesting conversations about science.
We will also be paying attention to how we create safe and smart environments that facilitate online learning and engagement as part of an Institute for Museum and Library Services study. We will be extending invitations to participants to help us with that inquiry as well.
Registration ends on Thursday night (3/31/11) at midnight and is free for the first 200 participants. Visit http://experimonth.lifeandscience.org to learn more.