First QS Masters Thesis: How Do the Meetup Groups Work and How Can QS Improve?
April 12, 2012
I'd like to present to everyone in the QS community the results from my research. I've spent almost a whole year now, conducting research for a masters degree in applied anthropology at San Jose State University. For the last six months or so, my research has focused on the QS meetup groups. In my MA program, we are encouraged to conduct a research project where we apply ethnographic methods to produce research that is useful in some way.
For my research, I teamed up with QS and designed a project with the help of Gary Wolf on the meetup groups. New groups are springing up all over the place, and Gary was interested in finding out more about what goes on in some of the groups, and some of the barriers and challenges for organizing. I conducted an ethnographic assessment to basically survey the "landscape" of the meetups. You can read more about it here in the report! (PDF)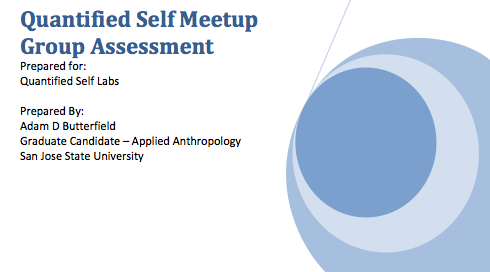 Everyone in the QS community I connected with was so helpful and encouraging during the research process. I didn't get a chance to put acknowledgements in the report, so I'd like to make a few right here.
First I'd like to thank Gary Wolf for coming up with the idea for a research project. I'd also like to thank everyone that I interviewed or talked to during the research process, especially John Amschler and Chloe Fan (for submitting to both rounds of interviews) and Scott Orn and Bo Adler (for being especially supportive). A very special thanks goes out to Alexandra Carmichael. Without her help and assistance with so many things, I don't think this research would have been possible.