Global Calendar for Quantified Self Meetups
June 29, 2011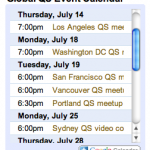 Now that there are so many QS events happening around the world (July alone has eight events!), we decided to put together a global QS calendar to keep track of all of them.
If you're traveling, or have friends in other cities you'd like to tell about a meetup, you can now see all upcoming events here. There's also a handy widget on the right side of this blog.
Feel free to send any events to us that aren't on this calendar and we'll add them.