Help Create the QS Network on Ning
June 11, 2009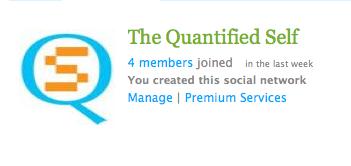 Thanks to Chris Finlay, the Quantified Self now has a nascent social network on Ning. You can find us here:
Chris and I were talking about the ideal design and features for this social network, and as I was staring at the blank google doc we created for our outline it occurred to me that perhaps the best way to discover what we could use this new tool for was to invite current QS readers to join and experiment. So take a look, and give us some feedback.
We would like to use a QS social network to encourage collaboration and project sharing. Our hope is to bring the spirit of the QS Show&Tell meetings to the web.
I think most of us will agree that we don't need another stream of email and direct messages in our lives, complete with new login names and notifications that require hitting a web page to follow up on. We'd like to design this site to support collaboration, without making it into an annoyance. Can you help? Go to Ning, create an account, and give it a try. Your feedback will help.