Intelligent Medicine – Proteus' Raisin System
May 20, 2010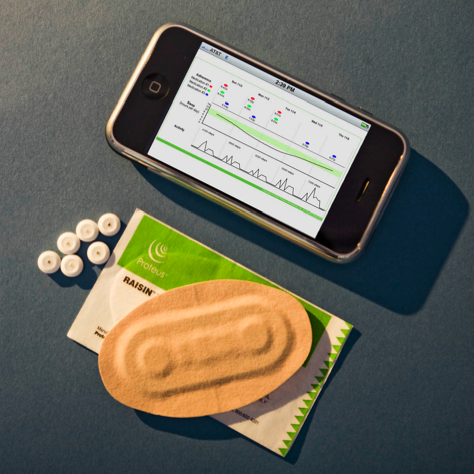 A crowd formed around me at the last Bay Area Quantified Self meetup as I showed around this bandage-shaped tracker and bright green pills with microchips on them. Questions showered me: What does it track? Does it have a battery? How does it work?
Unfortunately I didn't have all the answers. This new device was given to me by David O'Reilly of Proteus Biomedical. It's called Raisin, and it's scheduled to launch commercially in late 2011. Raisin tracks medications you take by receiving signals from each microchip-enhanced pill as it enters your body. It also tracks activity and sleep using an accelerometer.
Raisin was recently approved by the FDA and will be used in upcoming clinical trials for
mental health, heart failure, and Type 2 diabetes.
From Proteus' website:
"The Raisin™ system transforms existing drugs into intelligent medicines with the simple addition of a tiny ingestible microchip to a capsule or tablet during final product manufacturing, requiring no alteration to drug formulation. Proteus' Raisin system links the precise times a patient takes one or more microchip-enabled drugs to physiologic sensors and physician decision support tools."
Welcome to the future of medicine.