Nike+ Apple Workout Monitor
September 14, 2008
"Nike +" is the monitoring system embedded into specific Nike shoes which allow you to record data about your runs. In one version (not the Sports Band) the system transmits this information to your iPod, and soon to your iPhone.
Apple has filed patents for improving the system. According to Engadget which publicized the filed patent application, the newest features of Apple's include additional sensors in the shoe.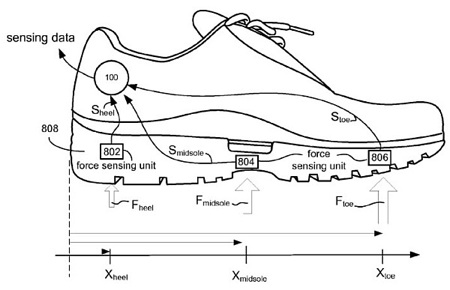 "The system relies on integrating GPS and additional shoe-based sensors into the system measuring your stride, the condition of the shoe, and perhaps even blasting you advertisements along your run route. The system can measure your velocity with accuracy in the range of 0.1 MPH, and let you know if you're a toe-planter or a heel-planter when you run."
Also according to Engadget, Nike + Apple are extending their system so it can communicate with gym equipment. "Nike and Apple worked with major gym equipment manufacturers to make their cardio equipment Nike + iPod compatible so gym members can easily track and record workouts on cardio equipment like treadmills, stair steppers, elliptical trainers and stationary bikes. According to Nike's own announcement, Life Fitness, Precor, Star Trac and Technogym are already on board and working on iPod-ready equipment, while participating gyms (including 24 Hour Fitness and Virgin Active Health Clubs) are supposedly set to starting rolling 'em out sometime this summer."
Nike's site currently lists 10 locations where gyms are compatible with NIke + gear.