October 24, 2008
Last Thursday's Quantified Self Show & Tell saw some great presentations, with great questions and discussion – or rather the beginning of what could have been much longer discussions that we cut off every time out of enthusiasm for the next person's show & tell. Average presentation time was a little under ten minutes, average discussion time was also under ten minutes, which allowed us to hear from 8 people in two hours. We cleared the room at 10 p.m. in order not to further abuse the extremely gracious hospitality of our hosts at The Institute for the Future, but as I was helping carry video equipment to the parking lot I noticed that the conversation has moved itself outside and didn't show any sign of diminishing.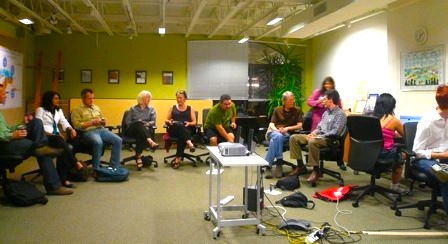 Below is a list of who presented, along with a single sentence about the topic. Fortunately, Paul Lundahl of eMotion studios, a member of the QS Show&Tell gang, was at the meeting with his digital video setup, and over the next few weeks we will be publishing short videos of some of the presentations.
Thanks to all who presented. We're going to try to make the QS Show&Tell a monthly event, using different interesting venues. (If you'd like to hear about them, you can sign up here: Quantified Self Show&Tell Meetup.)
Here's a brief summary of what happened:
Faren talked about her quest for a self-cure and tracking more than 40 biometric indicators.
Brandon from A&D Weighing gave us a demo of a collection of biometric devices that will automatically upload data to a proprietary web site for analysis.
Steve gave a short presentation raising the possibility that Bayesian analysis could help self-quantifiers who have trouble keeping testing conditions under rigid control (i.e., all of us).
Break here to say that enthusiasm for Bayesian analysis has broken out at both Quantified Self Show&Tells, raising the happiness of some and leaving others baffled. This will be a topic for future posts, but here are two quick links. The first is a wikipedia entry with links to many subtopics. The second is a beautiful, lengthy conceptual tutorial that is pretty accessible.
Wikipedia on Bayesian stuff.
Eliezer S. Yudkowsky, "An Intuitive Explanation of Bayes Theorem."
Ryan Grant gave an impassioned and inspiring talk about life-logging with an always on wearable camera he is developing.
Tim Lundeen talked about tracking cognitive function using a standard, easy to implement test and correlating changes in diet with changes in cognition.
Luke showed a life logging tool he created using Filemaker, which he uses to correlate life events with other types of time lines, such as world events, and life events of other family members and friends.
Joe Betts-Lacroix described his dream architecture for a self tracking system.
Alex Ressi gave a wonderful demo of his sites TweetWhatYouEat and TweetWhatYouSpent that use SMS/Twitter to post personal tracking data.
Look for video of some of these presentations in the next few weeks, along with more details!