QS15 Conference Preview: Katie McCurdy on Symptom Tracking with Spreadsheets
May 6, 2015
On June 18-20 we'll be hosting the QS15 Conference & Activate Expo in San Francisco at  the beautiful facilities at the Fort Mason Center. This will be a very special year with three days of inspiring talks, demos, and discussion with your fellow self-trackers and toolmakers. As we start to fill out our program we'll be highlighting speakers, sponsors, and attendees here.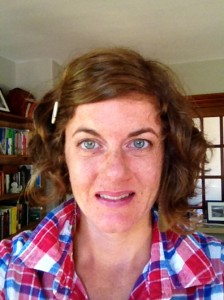 Katie McCurdy is a UX Designer and Researcher living in Burlington, VT. She also happens to have a few autoimmune diseases, and for the past few years she's been fortunate to be able to focus her UX practice on healthcare. She is especially excited about helping patients communicate better with their healthcare providers, and she's always experimenting with new and better ways of telling stories. A few years ago she created a visual timeline of her symptoms in an effort to tell a more concise and illustrative story to a new doctor. (It worked.) More recently, she's been tracking symptoms in a spreadsheet in an effort to maintain control over them. Katie currently works with Open mHealth and the start-up Notabli.
Katie will be sharing her self-tracking story as part of our show&tell program, where attendees share their first-person accounts of what they've learned through self-tracking. Katie has been tracking her symptoms, medication doses, and other important health-related things in a giant spreadsheet for a year and a half. She call's it her "Spreadsheet from Hell."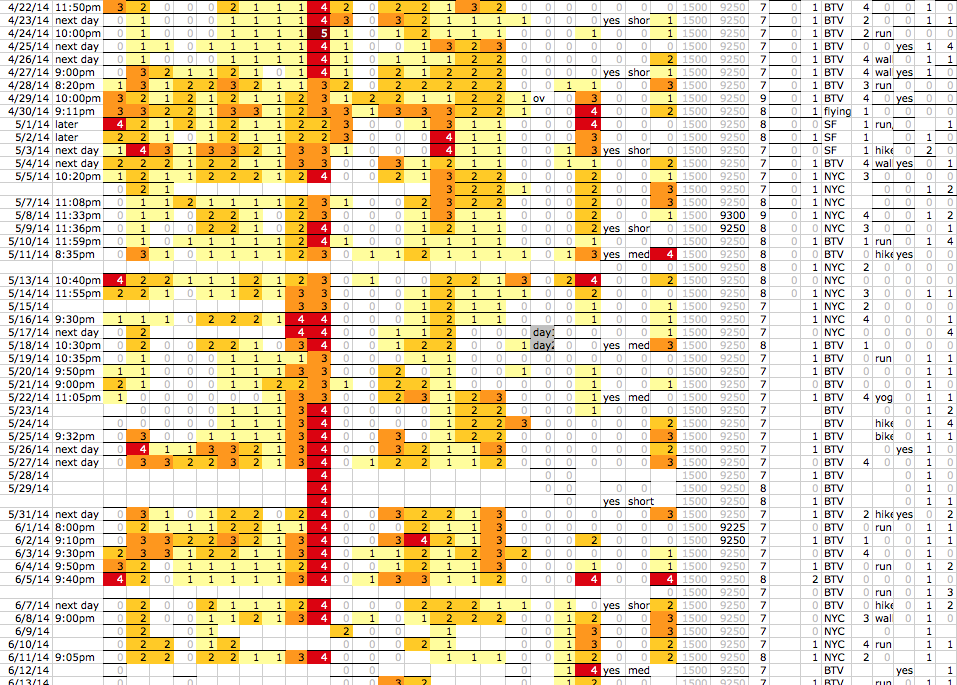 In her talk, Katie will share insights that she's learned from working with her spreadsheet including but not limited to: how she realized that she had chemical sensitivities; how she kept up with tracking for so long; how she got lazy and started entering incorrect data; and what she learned about her periods. We're excited to have Katie joining us and asked her a few questions about herself and what she's looking forward to at the conference.
QS: What is your favorite self-tracking tool (device, service, app, etc)?
Katie: Right now, I'm still using a spreadsheet most of the time for symptoms and related life things. It's not my favorite, but it's flexible and so far it's the one I've been able to stick with the longest. I do keep Moves and Breeze on in the background on my phone at all times.
QS: What are you most looking forward to at the conference?
Katie: I'm looking forward to meeting and talking with the awesome people at the conference. I love the spirit of openness and experimentation in the QS community. I'm also looking forward to seeing what other people are learning about their health through tracking.
QS: What should people come talk to you about at the conference?
Katie: I'd love to speak with anyone who is interested in how health tracking can help with chronic illness. I've tracked symptoms and triggers on and off for about 3 years, and have learned some things that have helped me modify my behavior. I also have an interest in bringing health tracking data into a clinical setting and making it more useful for doctors and patients; that's what I'm doing professionally with Open mHealth.
QS: What tools, devices, or apps do you want to see at the conference?
Katie: Anything that makes it easier for patients to gather data, and anything that makes it easier to make sense of data sets (heath or otherwise.)
QS: What topic do you think that Quantified Self community is not talking enough about?
Katie: I think it's good to keep in mind that for most people, manual data tracking over long time periods is not very feasible – it's just too hard. This is especially important for app developers to understand; even though the resulting data may be really useful, tracking is hard work. I personally have a love-hate relationship with it. I hope that the move to more passive data collection could result in more seamless data capture.
Katie's session is just one of the many hands-on, up-to-date, expertly moderated sessions we're planning for the QS15 Global Conference and Exposition. Register here!