Dispatch from QS Dublin: Results from a QS Community Survey
February 28, 2017
Today, we have a guest post from Justin Lawler, an organizer for the active and excellent Quantified Self group in Dublin, about a recent meetup. If you are a QS organizer, feel free to contact me about writing a recap of one of your events. -Steven
Recently, the Dublin Quantified Self meetup group gathered at the Dublin Science Gallery where Jenn Ryan presented the results from a recent survey on people's motivations for tracking. We had an engaged group of people with health and wellness backgrounds, students, and the merely curious to discuss the current state of Quantified Self and how it's impacting health.
Quantified Survey & The Potential of Personal Data in Healthcare
Jenn carried out the survey as part of her MSc thesis at University College Galway, trying to understand the motivations of those that track. A fitness instructor, Jenn is very conscious of public health and is always looking for new tools she can use with clients.
Some key insights from the survey:
A wide range of tools being used – from fitness trackers to phone apps to pen & paper.
Motivations for self-tracking included fitness goals, to tackling chronic diseases to self-knowledge & curiosity.
People found that the process of self-tracking was very useful for motivating behaviour change.
People found that once they started tracking biometrics, they didn't stop once it became a habit.
People are not too concerned about the confidentiality of the data.
Overall people are happy with the tools we have.
Some charts from the survey: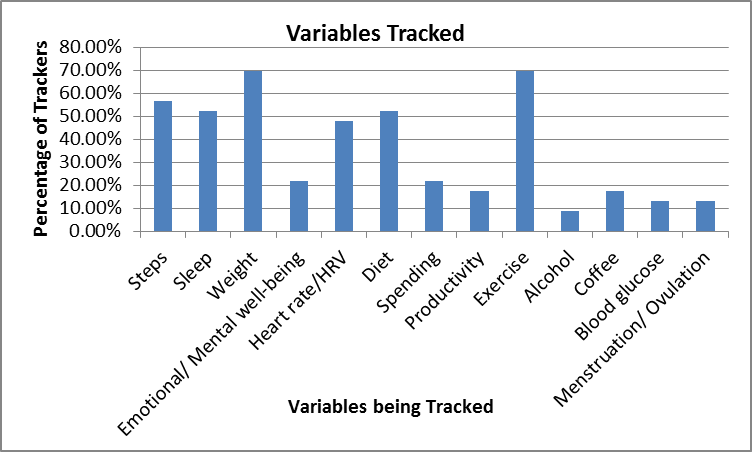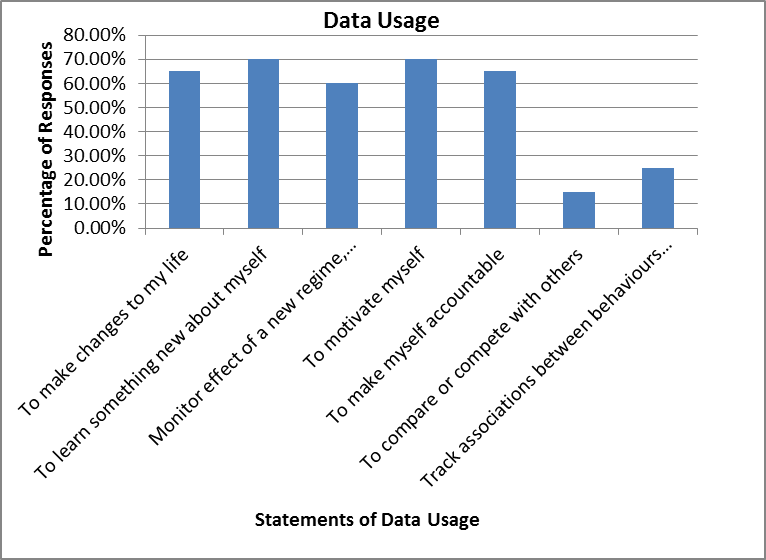 "It is like when you are driving a car and you see the fuel gauge. If you couldn't see the fuel gauge you would just drive on, but because you see it, you say 'oh I am running low on fuel' so I suppose if you see your weight going up or down, you can take action" -Survey Participant
Since survey responders were from the QS community, it wasn't a diverse/cross-population sample. The respondents were high socio-economic status, educated, self-driven & curious. In other words, early adopters. There is still plenty of room for deeper analysis into self-tracking in wider population groups [See this Pew Research study for a view of the general public in the U.S. -Steven]
Jenn notes that there is huge room for growth as wearable trackers move to the early majority stage, as tools become more passive, easier to use and give more useful actionable insights. The Quantified Self movement will play a big part in the future of healthcare, as well as, efforts like the Institute of Medicine's Learning Healthcare System which help healthcare iterate to provide better care.
Here is Jenn's full presentation from the event:
You can follow the QS Dublin on their blog. If you live near Dublin, you can find out when their next meetup will be.
QS17 Tickets
You can meet Justin and other QS Dubliners at our next conference on June 17-18 in lovely Amsterdam. It's a perfect event for seeing the latest self-experiments, debating the most interesting topics in personal data, and meeting the most fascinating people in the Quantified Self community. There are only a few discounted tickets left. We can't wait to see you there.