Quantified Self at HealthCamp
September 15, 2010
Quantified Self is excited to be part of HealthCamp again this year, with a self-tracking discussion session led by Gary Wolf. And yes, it's the same day as our
Quantified Self Show&Tell Meetup at Autodesk
. October 6 will be a full day.
This is a guest post from
Maren Connary
, organizer of HealthCamp and QS regular: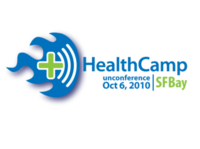 HealthCamp is a growing national movement of volunteers organizing user-generated unconferenes on healthcare innovation.
On October 6, HealthCamp will be offering a tour of the Garfiled Center at 8 am to the first 40 people who register, and the event starts at 9 am. The Quantified Self session will be at 11 am but we recommend staying for the whole day (lunch included) because the United States CTO Aneesh Chopra and HHS CTO Todd Park will be kicking off the day's events!
HealthCamp is only $25 for the day or $100 for sponsorship. Please visit www.healthcampsfbay for more information, email Maren at maren@marenconnary.com for questions, and register here.

When:
9:00 am, October 6, 2010
Where:
Kaiser Permanente Garfield Innovation Center
590 Whitney Street
San Leandro, CA 94577
How much:
$25 attendee, $100 sponsor
Register here:
http://www.eventbee.com/view/hcsfbay/event?eid=780239294
For those unfamiliar with the "unconference" format, it is an event where rooms and time slots are designated and attendees fill in each spot with the content they would like to speak/learn about.
Many times content is prepared but often a lively conversation and idea sharing session spontaneously develops.

This is the second year HealthCamp will be hosted at the Kaiser Permanente Garfield Innovation Center, a unique venue dedicated to exploring innovative new products, technology, and processes to enhance the healthcare experience. Quantified Self has been invited because many of the self tracking projects have tremendous implications for improving healthcare management and this would be the perfect opportunity to share ideas with some of the biggest healthcare industry innovators.