June 29, 2014
We've compiled another list of interesting personal data and Quantified Self articles, self-tracking stories, and data visualizations. Enjoy!
Articles
Experimental evidence of massive-scale emotional contagion through social networks by Adam Kramer, Jamie Guillory, and Jeffrey Hancock. Facebook engaged in a large study to see if emotional states could be transferred/changed via the emotional content of the News Feed. A lot of hubbub recently about this research article related to what it means to knowingly consent to research.
Who Owns Your Personal Data: The Incorporated Woman. Jennifer Morone has added herself to a long list of individuals making a statement against the commercialization of personal data. What started as a design assignment has morphed into a statement against others profiting and controlling personal data. (Immediately remind me of this Kickstarter project.)
Quantified Self and the Ethics of Personal Data by Ian Forrester. Ian does a great job here of exploring current conversations about the variety of ethical questions that come with creating, using, and owning personal data.
Visualizing Algorithms by Mike Bostock. Mike is the creator and steward of the d3.js data visualization library. In this fascinating post, he recounts one of his recent talks about how visualization can be used to understand how algorithms work.
"[…] algorithms are also a reminder that visualization is more than a tool for finding patterns in data. Visualization leverages the human visual system to augment human intellect: we can use it to better understand these important abstract processes, and perhaps other things, too."
Biometric Shirt for Astronauts Gets Antarctic Tryout by Eliza Strickland. Eliza describes a "try-out" for using self-tracking technology to better understand vital signs and activity during space travel.
Show&Tell
My Solution for Quantified Self: Prompted Data Aggregation by Jonathan Cutrell. Jonathan decided to build his own simple system for self-directed data collection prompts. "While they may be simple data points, and while the questions will repeat, the concept is simple: my computer asks me a question, and tracks my answer for me."
Quantified Splunk: Tracking My Vital Signs by David Greenwood. David describes how he uses Splunk, a data monitoring and analysis tool, to help him track and make sense of new personal health data he's collecting. It will be interesting to see what he learns as he starts adding and exploring more of his self-tracking data.
How I Wrote 400K Words in a Year by Jaime Todd Rubin. In March of 2013, Jaime decided he was going to try and write every day. In this post he describes some of the lessons he learned through tracking his writing practice. I was particularly drawn to his methods for tracking all his writing through Google Docs.
Do you have a self-tracking story you want to share? Submit it now!
Visualizations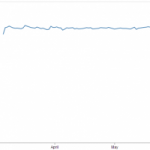 Charting Withings Data Using IFTTT, Google Spreadsheets, and d3.js by Dan Harrington. Dan didn't like the way Withings presented weight data in it's visualization. So, he put together a tutorial to show how you can grab your Withings data via IFTTT, import it into a Google Spreadsheet, then visualize it using d3.js, an open-source data visualization library.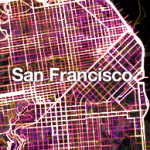 1.5 Million Walks, Runs, and Bike Rides by Mapbox and RunKeeper. The Mapbox team worked with Runkeeper to map publicly shared routes. Really interesting to zoom around the world map to see where people who use RunKeeper are exercising.
Do you have a QS data visualization you want to share? Submit it now!
From the Forum
HealthKit
Lifelogging via Calendar Application
Help Analyzing Text Files?
Breakout: Productivity Tracking
Want to receive the weekly What We Are Reading posts in your inbox? We've set up a simple newsletter just for you. Click here to subscribe.