August 9, 2014
Enjoy this week's list!
Articles
The Five Modes of Self-Tracking by Deborah Lupton. One of our favorite sociologists, Deborah Lupton, explores the typologies of self-trackers she's identified for an upcoming paper. A very nice and clear explanation of the self-tracking practices in regards to different "loci of control." (Make sure to also read Deborah's great post, "Beyond the Quantified Self: The Reflexive Monitoring Self")
In-Depth: How Activity Trackers are Finding Their Way Into the Clinic by MobiHealthNews. An interesting look at the recent influx FDA-cleared activity and movement trackers and how clinicians are looking to use them. Surprising to me is the lack of data access for the patient in these devices (at least on first glance).
The Reluctantly Quantified Parent by Erin Kissane. As a new mother, Erin was hesitant to use what she deemed "anxious technology." After some hard nights of little sleep she began to slowly incorporate some self-tracking technology into her routine with her newborn daughter. A great read about using tools then putting them away once they've served their purpose. (Reminded me of this great talk by Yasmin Lucero.)
Show&Tell
Returns to Leisure by Tom VanAntwerp. Tom was interested in his return on investment from his leisure time actives. He tracked his time spent in different non-work activities for two weeks and calculated the cost of participating in those activities.
The Quantified Microbiome Self By Carl Zimmer. The great science writer, Carl Zimmer, writes about a recent experiment and journal article by two MIT researchers who tracked their microbiome every day for a year. Fascinating findings, including a successful self-diagnosis of salmonella poisoning. You can also read the original research paper here.
Better Living Through Data by James Davenport. We recently highlighted one of James' posts on how his laptop battery tracking led him to understand his computer use habits. In this post he dives deeper into the data.
A Personal Analysis of 1 Year of Using Citibike by Miles Grimshaw. Miles was interested in understanding more about his use of the Citibike bike share system in New York City. Using some ingenious methods he was able to download, visualize, and analyze his 268 total trips. I especially appreciate his addition of a simple "how-to" so other Citibike users can make the same visualizations.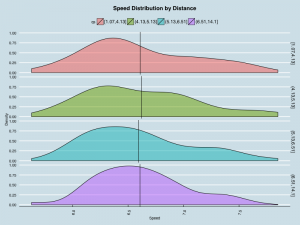 Visualizing Runkeeper Data in R by Dan Goldin. In 2013 Dan ran 1000 miles and tracked them using the popular Runkeeper app. Runkeeper has a quick and easy data export function and Dan was able to download his data and use R to visualize and analyze his runs. (Bonus Link: If you're a Runkeeper user you might be interested in this fantastic how-to for making a heatmap of your runs.)
From the Forum
Google Fit
Breakout: Productivity Tracking
Track Your Phone Addiction
Activity Tracking Without Online Requirement
Quantified Self – It's Benefits
This Week on Quantifiedself.com
Natty Hoffman: The Enlightened Consumer
QSEU14 Breakout: Passive Sensing With Smartphones
Jenny Tillotson: Science, Smell, and Fashion
Paul LaFontaine: We Never Fight on Wednesdays
Vanessa Sabino on Tracking a Year of Sleep