January 17, 2015
Enjoy these articles, examples, and visualizations!
Articles
OpenNotes: 'This is not a software package, this is a movement' by Mike Milliard. I've been following the OpenNotes project for the last few years. There is probably no better source of meaningful personal data than a medical record and it's been interesting to see how this innovative project has spread from a small trial in 2010 to millions of patients. This interview with Tom Delbanco, co-director of the OpenNotes project, is a great place to learn more about this innovative work.
Beyond Self-Tracking for Health – Quantified Self by Deb Wells. It was nice to see this flattering piece about the Quantified Self movement show up on the HIMSS website. For those of you looking to connect our work and the broader QS community with trends in healthcare and health IT you should start here.
So Much Data! How to Share the Wealth for Healthier Communities by Alonzo L. Plough. A great review of the new book, What Counts: Harnessing Data for America's Communities, published by the Federal Reserve Bank of San Francisco and the Urban Institute. The book is available to read online and in pdf format.
The Ultimate Guide to Sleep Tracking by Jeff Mann. A great place to start if you're interested in tracking sleep or just want to learn more about sleep tracking in general.
What RunKeeper data tells us about travel behavior by Eric Fischer. We linked to the recent collaboration between Runkeeper and Mapbox that resulted in an amazing render of 1.5 million activities a few weeks ago. The folks over at Mapbox aren't just satisfied with making gorgeous maps though. In this post, Eric, a data artist and software developer at Mapbox dives into the data to see what questions he can answer.
General Wellness: Policy for Low Risk Devices – Draft Guidance for Industry and Food and Drug Administration Staff . On Friday, January 16, 2015, the Food and Drug Administration released a draft of their current approach to regulating "low risk products that promote a healthy lifestyle." These guidelines point to a stance that will allow many of the typical self-tracking tools currently in use today to remain outside the regulations normally associated with medical devices. (A quick overview of this document is also available from our friends at MobiHealthNews)
Show&Tell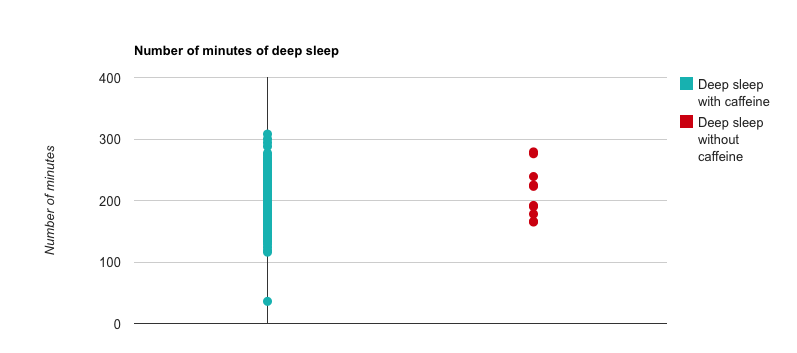 The Great Caffeine Conundrum. A wonderfully thorough post about using the scientific process, statistics, and self-tracking data (Jawbone UP) to answer a seemingly simple question, "Does eliminating caffeine consumption help me sleep better?"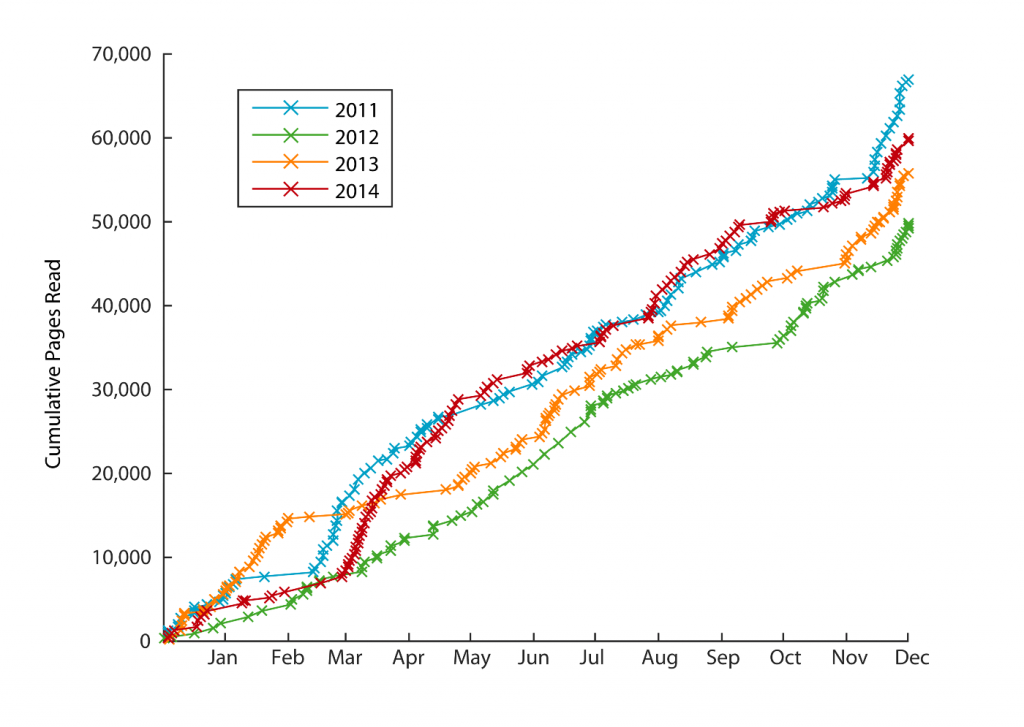 Four Years of Quantified Reading by Shrivats Iyer. Shrivels has been tracking his reading for the last four years. In this post he explains his process and some of the data he's collected, with a special emphasis on what he's learned from his 2014 reading behavior.
Visualizations
Pretty Colors by Chanlder Abraham. Chandler spent his holiday break exploring his messaging history and creating some amazing visualizations. Above you see a representation of his messaging history with the 25 most contacted people since he's began collecting data in 2007.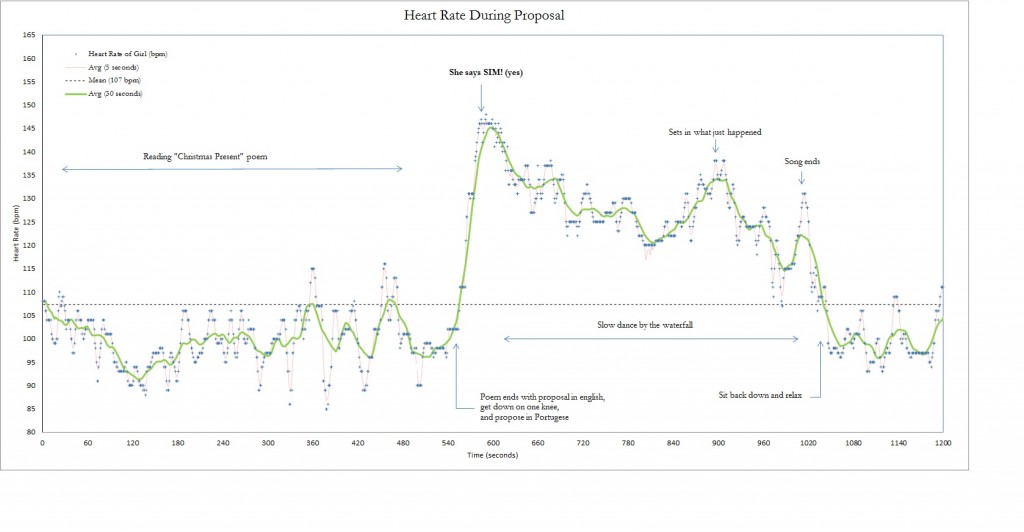 Heart Rate During Marriage Proposal by Reddit user ao11112. Inspired by another similar project, this ingenious individual convinced his now fiancé to wear a hear rate monitor during a hike. Unbeknownst to her, he also proposed. This is her annotated heart rate profile.
Help CDC Visualize Vital Statistics by Paula A. Braun. The CDC has a new project based on the idea that better visualization can make the data they have more impactful. If you're a data visualizer or design consider downloading the CDC Vital Statistics Data and joining #vitalstatsviz.
From the Forum
Fits & Starts
File format for centralized storage of Quantified Self data
Embedding/Sending data to Website
Data Collection & Analysis