January 31, 2015
Philosophy, bicycles and brains, opinions on tracking sleep, learning from actually tracking sleep, and visualizing work through vigilant self-report – all these and more in our reading list below. Enjoy!
Articles
Sleep apps and the quantified self: blessing or curse? by Jan Van den Bulck. Here at QS Labs, we're very interested in how the academic and research world is colliding with those of us using tools of measurement previously restricted to science. In this Letter to the Editor, published in the Journal of Sleep Research, the author lays out an interesting set of opinions about the increasing availability and use of commercial sleep tracking devices. (You can access the full pdf here.)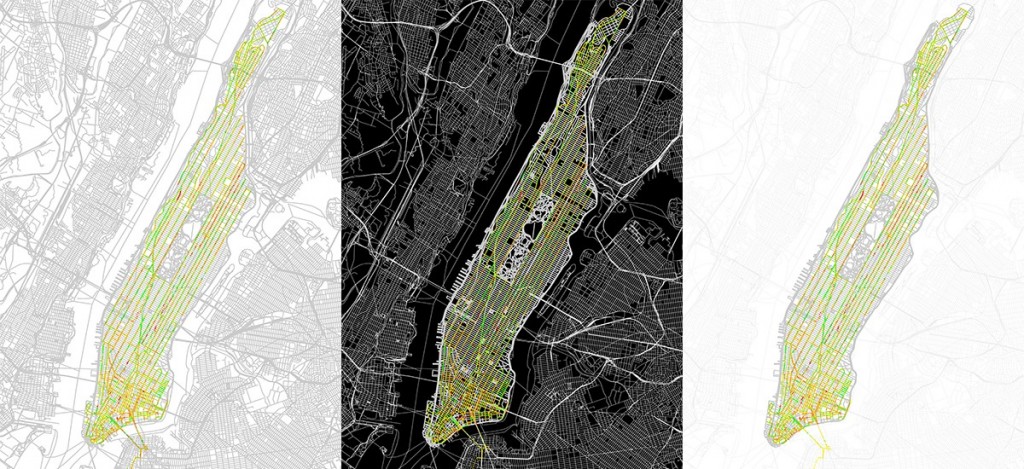 Measuring Brainwaves to Make a New Kind of Bike Map for NYC by Alex Davies. Readers of the QS website may remember a great show&tell talk we featured back in May of 2014. In that talk, Arlene Ducao discussed her MindRider Project, an EEG tracking bicycle helmet. In this short piece, we learn that Arlene has continued this awesome work and has produced MindRider Maps Manhattan, exposing the brain data of 10 cyclists as they transversed New York City.
Big Data and Human Rights, a New and Sometimes Awkward Relationship by Kathy Wren. Earlier this year the AAAS Science and Human Rights Coalition held a meeting to discuss the intersection of personal data collection and human rights. This short article describing some of the key discussion points is a great place to start if you're exploring what "big" and personal data means to you and your use of the tools and services that collect it. (Videos of the meeting are also available.)
How Theory Matters: Benjamin, Foucault, and Quantified Self—Oh My! by Jamie Sherman. A very interesting and thought-provoking essay here on the nature of self-tracking and data collection framed against the works of Michel Foucault and Walter Benjamin. We count ourselves lucky to have Jamie as an active member and observer of our QS community.
But taken together, Foucault and Benjamin suggest that the penetration of data into daily life is part of a larger shift underway, and that changes we can already see in social life, politics, and labor are not unrelated, but rather intimately linked.
Compulsory Quantified Self by Gwyneth Olwyn. I think it's good practice to try and expose ourselves to all sides of the conversation around self-tracking, the positive and the negative. In this blog post Gwyneth describes a few ideas about the purpose and outcomes of self-tracking, especially when the self is superseded by the demands of others (such as in a workplace wellness program).
Show&Tells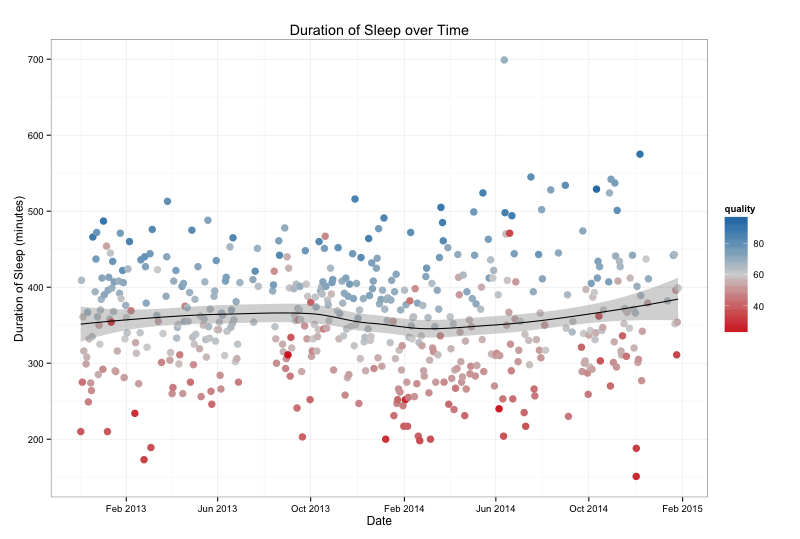 Sleep Data Analysis with R by Ryan Quan. Ryan has been tracking his sleep with the Sleep Cycle app for the last two years. In this excellent post he explores and plots his data (yay export!) to see when he goes to sleep, how long he sleeps, and what really makes up "quality sleep." Love the fact that he included his R code and sample data. Go Ryan!
Quantifying Goals Using Key Performance Indicators (KPIs) by Bob Troia. No data in this post, but I found it particularly inspiring to see how Bob was planning on keeping track of his goals for this year. If you're looking for ideas for tracking your 2015 goals and Key Performance Indicators this is a great place to start.
Visualizations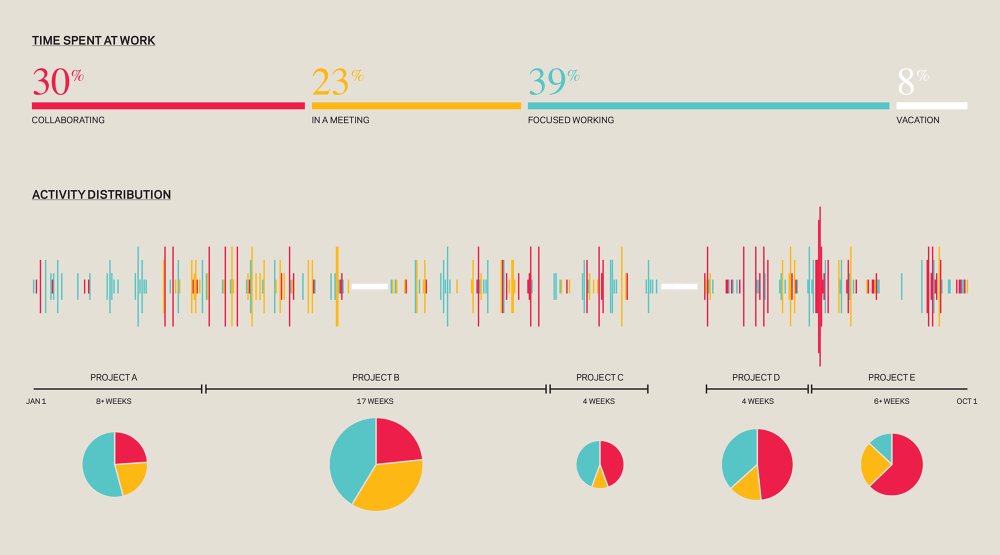 The Resume Of The Future by Eric Boam. The above is one of the two beautiful visualizations created by Eric to explore his daily work activity and interactions. This visualization shows what he was actually spending his time on. How did he collect the data? Well, he used the Reporter App to ask himself three questions: "where are you, what are you doing, and who are you with?" Make sure to read his post, he developed very interesting insights through collecting this data.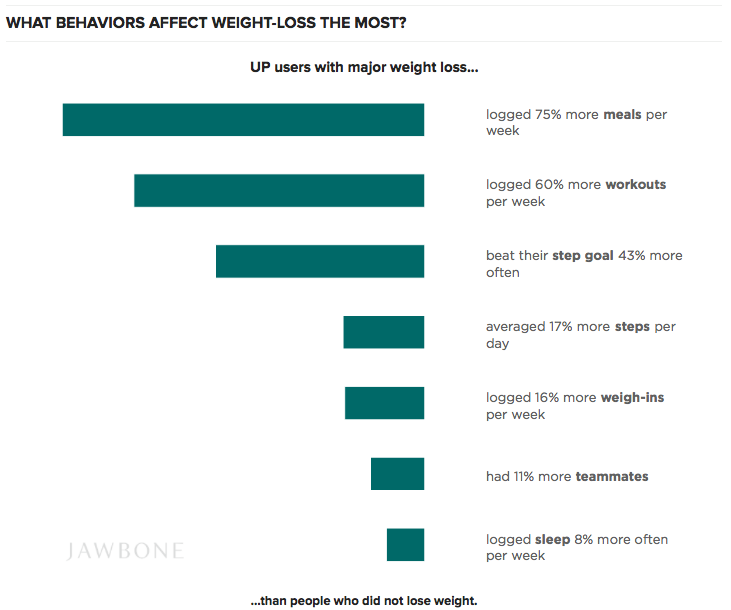 Weight Loss: What Really Works? by Emi Nomura and Laura Borel. Another fascinating data analysis project here by the Jawbone data science team. They examined the behaviors of a group of users who lost at least 10% of their starting weight vs users with no weight loss and found that the biggest difference in behavior was tracking meals.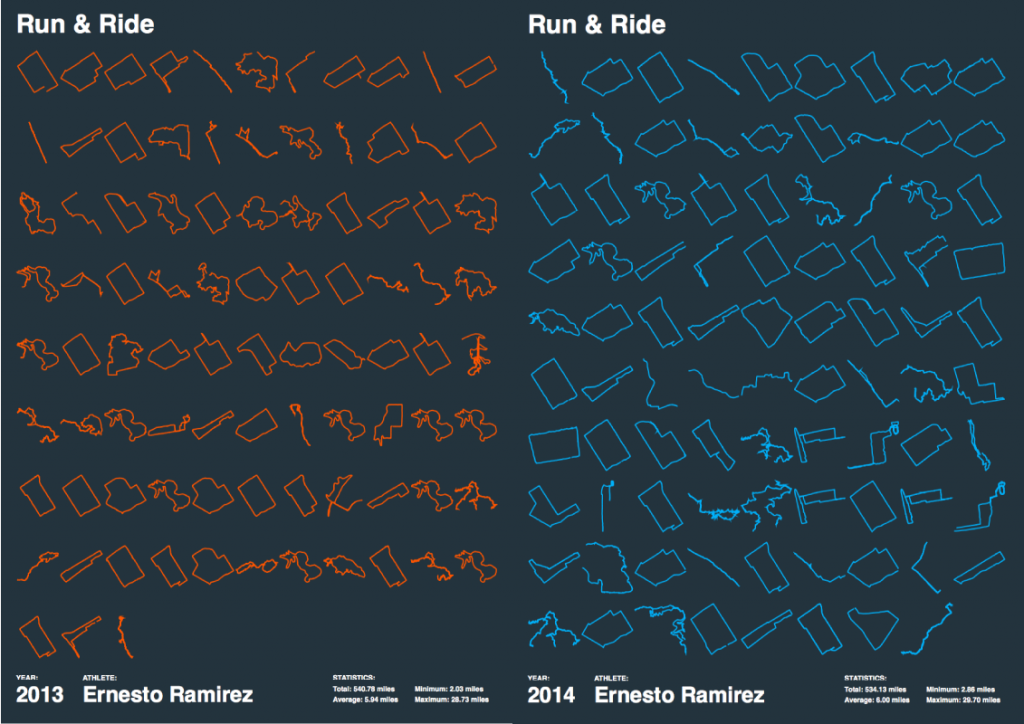 Mapping my Last Two Years of Runs and Rides
While browsing the r/dataisbeautiful subreddit I stumbled upon this interesting tool/company that visualizes the maps of your runs and bike rides by connecting to your Runkeeper or Strava account. Above I've included my 2013 and 2014 maps. Clearly I need to find some new running routes in my neighborhood. (click through to enlarge)
QS Access Links
As part of our new work highlighting stories, issues, and innovations related to personal data access we're going to start publishing a short collections links in this space. As this works grows be on the lookout for a new Access Newsletter from QS Labs.
Who Should Have Access to Your DNA?
What FDA developments in Diabetes mean for FDA approval in Digital Health
Open consent, biobanking and data protection law: can open consent be 'informed' under the forthcoming data protection regulation?
WTF! It Should Not Be Illegal to Hack Your Own Car's Computer
Unique in the shopping mall: On the reidentifiability of credit card metadata
Majority of Consumers Want to Own the Personal Data Collected from their Smart Devices
Who Owns Patient Data
Los Angeles County Supervisors OK Creation of Open-Data Website
From the Forum
Jawbone Up
How to find all major volunteer bioscience projects I can partake in?
Bluetooth pulse oximeters…
Best Heart Rate Monitor that syncs with Withings Ecosystem