February 21, 2015
We hope you enjoy this week's What We're Reading list!
Articles
The Wow of Wearables by Joseph Kvedar. An excellent post here in the wake of the "Smartphones vs. Wearables" hype in the past weeks. Favorite part:
"I'd have to say that reports of the death of wearables have been greatly exaggerated. The power of sensor-generated data in personal health and chronic illness management is simply too powerful to ignore."
Survival of the Fittest: Health Care Accelerators Evolve Toward Specialization by Lisa Suennen. If you're at all interested in the recent surge in health and healthcare focused accelerators this is for you. Excellent reporting. (Thanks for sharing Maarten!)
Your Brain Is Primed To Reach False Conclusions by Christie Aschwanden. Fascinating piece here about the nature of the "illusion of causality."
A Few Throughs About Patient Health Data by Emil Chiauzzi. Emil, Research Director at PatientsLikeMe, lays out four point to consider when thinking about how to best use and grow self-collected patient data.
Having Parkinson's since I was 13 has made me an expert in self-care by Sara Riggare.
I am the only person with the whole picture. To me, self-care is everything I do to stay as healthy as possible with a disease that is a difficult life companion. It entails everything from making sure I take my medication in the optimal way, to eating healthily, getting enough sleep, to making sure I stay physically active. I also make an effort to learn as much as I can about my condition; my neurologist says that I know more about Parkinson's research than he does. I don't find that odd, since he needs to try to stay on top of research in probably hundreds of neurological diseases, whereas I focus on just one.
From Bathroom to Healthroom: How Magical Technology will Revolutionize Human Health by Juhan Sonin. A beautifully written and illustrated essay on the design of our  personal healthcare future.
Show&Tell
Experimenting with sprints at the end of exercise routines by Gustavo M. Gustavo is a person with type 1 diabetes. After reading that post-exercise high intensity exertion might have an effect on blood glucose he put it to the test.
On Using RescueTime to Monitor Activity and Increase Productivity by Tamara Hala. Tamara walks us through the last three years of her RescueTime data and how she used that information to understand her work and productivity.
How Do You Find Time to Write? by Jamie Todd Rubin. Jamie has been writing for 576 consecutive days. How does he do it? A mixture of data and insight of course!
Visualizations

Say "I Love You" With Mapping by Daniel Rosner. Wonderful to see CHI papers ending up on Medium. This seems like a fun self-tracking/art project.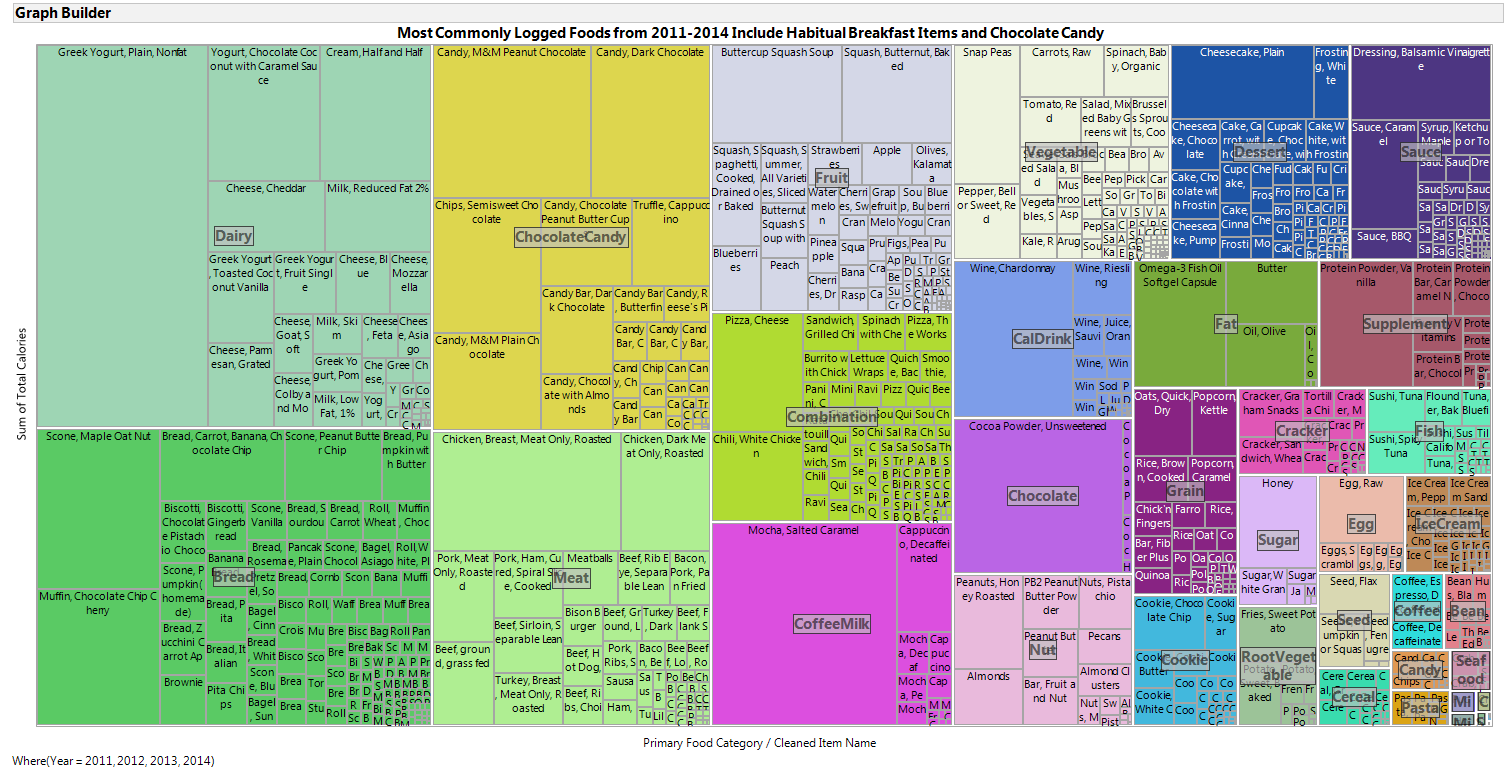 Cleaning up and visualizing my food log data with JMP 12 by Shannon Conners. Once again, Shannon displays a wonderful ability to wow us with her data analysis and visualization. Above is four years of food tracking data!

Two Trains: Sonification of Income Inequality on the NYC Subway by Brian Foo. Brian created this data-driven musical composition based on income data from neighborhoods the border the 2 train. Beautiful work.
Access Links
Walgreens adds PatientsLikeMe data on medication side effects
How Open Data Can Reveal—And Correct—The Faults In Our Health System
Big Data is our Generation's Civil Rights Issue, and We Don't Know It.
From the Forum
Creating Scales for Quantifying Action
Sharing Anonymized Data