July 4, 2015
After a few weeks of we're back for another round of What We're Reading. As you may know, we just wrapped on amazing three day conference and expo in San Francisco. Thank you to all that came, participated, and helped make QS15 such a wonderful experience!
Couldn't make it to QS15? You're in luck! We just announced our fourth Quantified Self Europe Conference. Join us in Amsterdam for an intimate and engaging event. You don't want to miss it! Early bird tickets are on sale now.
Now, on with the show!
QS15 Reactions
We've started to see a few great blog posts and articles describing the experience of attending the QS15 Conference and Expo. For the next few weeks we'll be highlight a few here.
Quantified Self '15 Day 1 Recap by Tim Hanrahan
Quantified Self Expo, Part 1 by Karl Etzel.
What you can learn from the 2015 Quantified-Self Conference by Guillaume Tourneur
What I learned at Quantified Self 2015 by Richard Sprague
Articles
Is Direct Access to Lab Results Helpful or Harmful? by Patricia Salber. Patricia updates a post, first written in 2011, about the pros and cons associated with having direct access to medical testing and lab results.
Jaguar wants to monitor its drivers' brainwaves, heart rate, and breathing by Jacob Kastrenakes. Sounds a bit far-fetched, and we may never see this research project in our cars, but I was intrigued by this:
But Jaguar says that it should be able to monitor for brainwaves through sensors embedded in the steering wheel. It's apparently looking into adapting tech that's already used by NASA to monitor pilots' concentration.
Sounds interesting, but I'm also left I'm also left wondering if it will be worth measuring my concentration when the cars of the future will be driving themselves!
Google Reveals Health-Tracking Wristband by Caroline Chen and Brian Womack. Interesting to see that Google X is getting into the wearables game. Anyone know the difference between this device and other similar tools like Basis?
Biggest winner of the Finals? Rest! by Tom Haberstroh. What helped the Golden State Warriors have one of the best seasons in NBA history and capture the championship? Quantified Self of course!
They Warriors are as nerdy as it gets. As clients of wearable technology provider Catapult Sports, they monitor their players' workloads in practice with GPS monitors and analyze the data with acute attention to maximizing performance while minimizing injury risk.
Show&Tell



Sorry by Robin Weis. A fascinating and beautifully articulated exploration into apologies between Robin and her parter. (Note: This was first posted by Robin on our Quantified Self Facebook Group. Join us forfor some great conversation!)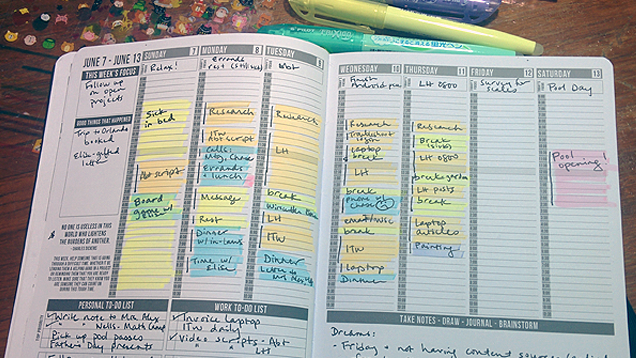 How Tracking What I Do Every Day Helped Me Find Better Work-Life Balance by Melanie Pinola.
Most importantly, time tracking has helped me think more clearly about how I spend my time. I can see at a glance where I'm spending too much time in one area and not enough in others and also find patterns in my behavior.
Visualizations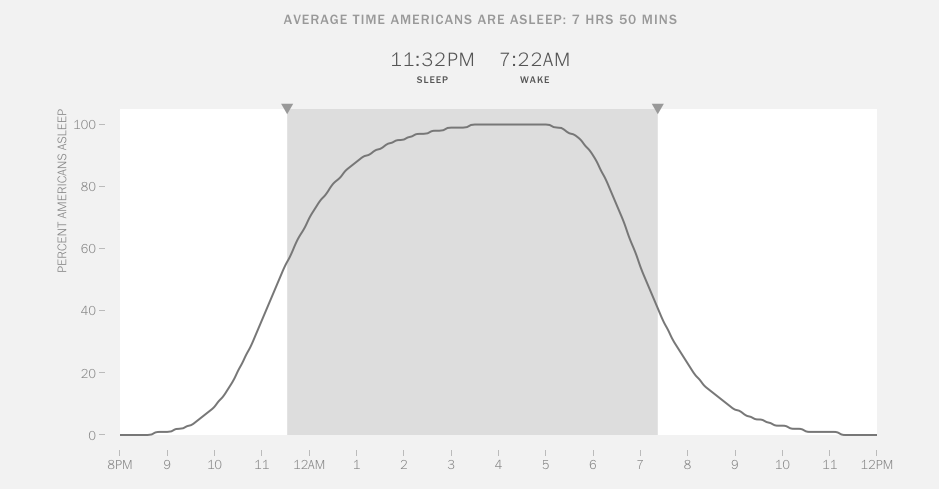 Find Out How Much Less Sleep You're Getting Than Everyone Else by Dave Johnson and Alexander Ho. Time and Withings paired up to create some great interactive visualizations on sleep.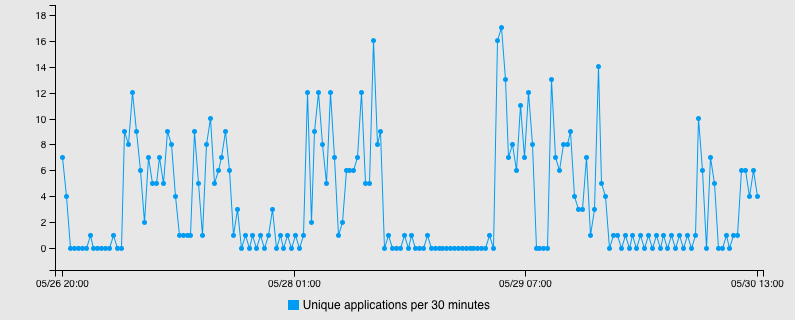 Visualizing "Productivity" with Elasticsearch, Logstash and D3 by Ryan Brink. Ryan wanted to get "look into my life at the keyboard" so he decided to gather some data and use D3 to visualize it. Click for the graphs, stay for the in-depth how-to explanation.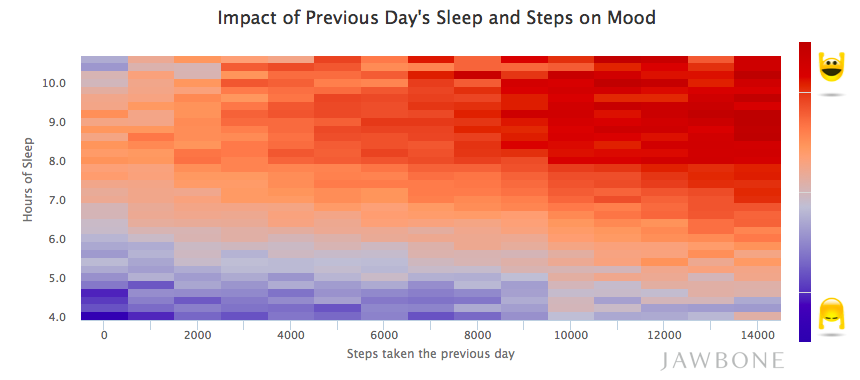 What Makes People Happy? We Have the Data. by Sukrit Mohan. Jawbone takes a peak into their data to see what impacts mood. Above we see "a clear relationship between steps on the previous day and the mood of the user in the morning: better moods correlate with more steps."
From the Forum
Food choice motivation experiment – Looking for a few people
Recommendation for Unique HR Monitoring Situation
Looking for the Zeo app for iPhone
QuantifiedSelf.com
QS15: What Happened?
Comparing Apple Watch and Fitbit One for Step Tracking
Announcing the 2015 Quantified Self Europe Conference
Anand Sharma: Aprilzero, Gyroscope, and Me