February 6, 2017
Even though our work at Quantified Self is not ostensibly political, we have been thinking lately about its relevance to the tumultuous times in U.S. politics. Although there is uncertainty and fear, we, like many others, feel activated to make a difference as individuals, more than we did before.
One of my fundamental beliefs about Quantified Self practices is that it leads people to be better versions of themselves. I don't mean this in the bigger, stronger, or faster sense. It helps people become active agents in their lives. To be more curious and challenge certainty in themselves and others. In navigating this uncertain time and figuring out how to make a personal contribution, communities will play a larger role in people's lives. It's important to me, at least, that we are a community that encourages thoughtfulness and thoroughness in reasoning and perspective. I don't know exactly what our role will be, but we stand in solidarity with those who fight for a better world and defend against capriciousness, avarice, and false confidence. In that spirit, my colleague Erica has put together a beautiful, short video of her experience at the Women's March on D.C.
I hope you enjoy these articles. Some are a welcome respite. Others may help with understanding the current situation. If you have any suggestions for what we can do to help or if you read anything that we should include in a future WWAR, send it my way at steven@quantifiedself.com.
-Steven
Articles
Algorithmic Life by Massimo Mazzotti. Trendy words become objects of derision. When a word with a range of meanings is overused, it becomes ever more ambiguous, as each discrepant situation through which it passes rubs away some of its precision, until the sound of the word does nothing more than evoke vague memories of where it's been. Words that have been with us through many struggles, like "justice" or "pride," acquire the opacity of nearly universal significance. But new minted words, without historical weight— people may just start to laugh them. The word algorithm has begun to suffer this fate. This sensitive essay by historian of science Massimo Mazzotti argues that the semantic confusion of "algorithm" is an invitation to revise our assumptions about people and machines. -Gary
Why Medical Advice Seems to Change So Frequently by Aaron E. Carroll. Nutritional recommendations are a tricky business. Some wonder why scientists can't get their story straight. Sometimes the issue is that a perceived effect disappears when a more rigorous experiment is done. Another issue is that some people will benefit from an intervention, but it is then proclaimed that all people will benefit. There's also the problem of studies with negative results being hidden from view. -Steven
Tracking Physiomes and Activity Using Wearable Biosensors Reveals Useful Health-Related Information, by Xiao Li, Jessilyn Dunn, and Denis Salins. This article from PLOS-Bio is a top contender for "QS Paper of the Year." True, this award was just invented, and the year has barely started. Still, I invite you to download it and see if you can find reasons to disagree. Based on nearly two years of extremely detailed self-tracking by one 58-year old participant, and strengthened by additional group research, the paper makes substantive new discoveries and demonstrates the power of accessible tools for self-measurement. The participant is Mike Snyder, principle investigator in the Stanford lab where the authors work. (Aside from many other interesting things about the paper, it's an important example of participatory research methods.) Back in 2011, an individual self-experimenter, John de Souza, gave a talk at our QS conference showing that he could predict sickness – before symptoms were felt – by looking at elevation of peak heart rate during exercise over a well established baseline average. Li, Dunn, and Salins' paper contains a similar result based on elevation of resting heart rate. The data supporting this conclusion is very rich, including both self-reported symptoms and elevated hs-CRP, a marker of inflamation. There is much too much additional interesting material to quickly summarize; thankfully, PLOS-Bio is open access, so have at it. -Gary
Most People Are Bad at Arguing. These 2 Techniques Will Make You Better by Brian Resnick. Something that I see play out on Facebook currently is the futility of arguing with those that we disagree with. It's not often the case that this does anything to change minds. This article looks at how empathy and listening can make a difference. -Steven
Cortisol and Politics: Variance in Voting Behavior is Predicted by Baseline Cortisol Levels, by Jeffrey A. French, et al. While I don't have super high confidence the conclusions from this paper published in 2014 are going to hold up, the connection between variations in stress tolerance and participation in politics is very interesting, and more accessible measurement tools are going to allow a much closer look than we've ever had before. An intuitive understanding of how to induce and relieve stress has been part of politician's toolkit forever, but now more than ever we need some kind of self-understanding of our own physiological patterns of response, in order to be able to reflect better on what's happening around us. -Gary
The FDA Is Cracking Down On Rogue Genetic Engineers. Up until this point DIY biohacking has largely operated without government oversight. As this technology moves out of niche communities and becomes commercialized, there are concerns over whether the FDA will include DIY biology enthusiasts in the rulemaking process. -Steven
Show & Tell
The Year 2016 by Lillian Karabaic. Lillian releases her 9th annual report, with entertaining visualizations, whimsical metrics (e.g., tacos consumed), and a light-hearted, but not to be taken lightly, study of burnout from a new job. -Steven
Introducing BobAPI — A Personal API to Collect and Share All of My Life Data by Bob Troia. I missed this when he originally released it, but Bob created a unified data store that allows him to have control and ownership of his data and better equip himself to contribute to citizen science. I hope this proves to be a model that others follow. – Steven
A College Student's Individual Analysis of Productivity of Four Years by Tiffany Qi. Tiffany recently graduated from UC Berkeley. During her four years of undergrad study, she tracked her time and productivity. In this analysis, she looks at how how her time spent affected her grades. -Steven
Data Visualizations

One Angry Bird: Emotional Arcs of the past Ten U.S. Presidential Inaugural Addresses. This analysis looks at facial expressions used by the last ten presidents as they give their inaugural addresses. Both the visualizations and method of analysis are novel. -Steven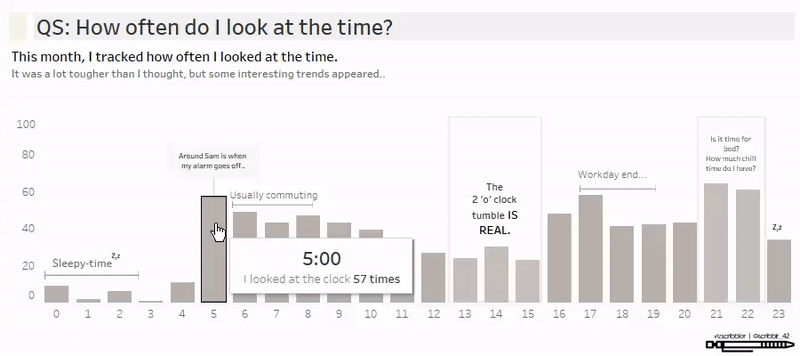 How Often Do I Look at the Time? by Ravi Mistry. This is a of a visualization of a novel metric: "how often one looks at the time." I'm impressed by the discipline required to pull this off. -Steven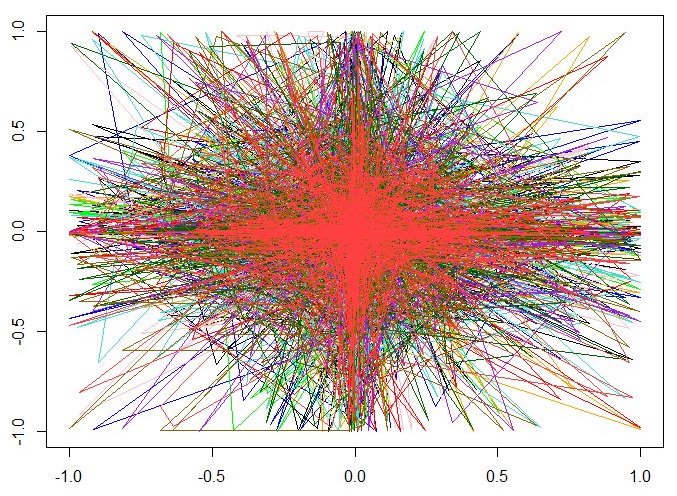 Accidental aRt. This is a twitter feed for R visualizations that go "beautifully wrong." My personal title for this beautiful work of accidental art is: "Causation is not correlation." -Gary
QS17 Conference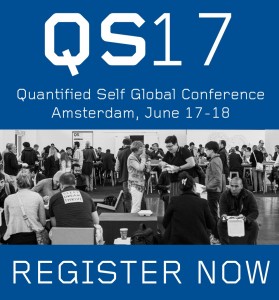 Our next conference is June 17-18 in lovely Amsterdam. It's a perfect event for seeing the latest self-experiments, debating the most interesting topics in personal data, and meeting the most fascinating people in the Quantified Self community. There are only a few early-bird discount tickets left. We can't wait to see you there.
You can subscribe to What We're Reading and get them straight to your inbox.