Steven Zhang: Concussions, Headaches and the Whole30 Elimination Diet
July 16, 2015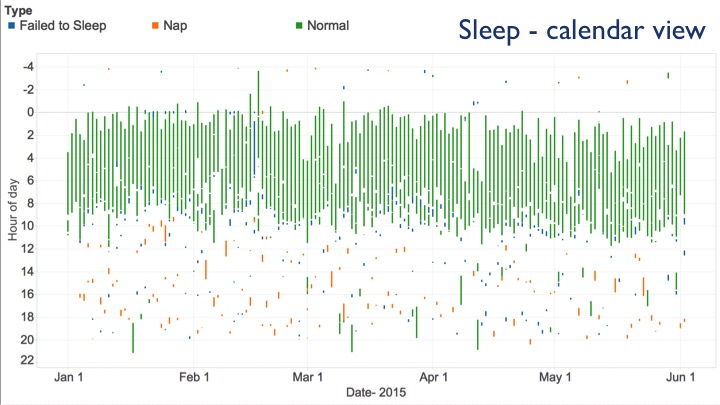 At every conference, a synchronicity will occur where a few talks cover a similar, but previously unexplored topic. At QS15, we were surprised to see an increased discussion of concussions. It's hard to know whether this is due to random chance or a glimmer of the zeitgeist, but we like to take note of these little waves of how people are finding new ways to understand themselves, or in this case, overcome strife.
Though Steven Zhang had a history of sleepiness and headaches, he never tracked them prior to his concussion. But during his recovery from post-concussion syndrome (which worsened his sleepiness and headaches), he wanted a clear record of his progress. He tracked headaches using the Tap Log android app and tracked his sleep using Sleep As Android, manually logging in and out in the app as he prepared for or woke from sleep. That he naps often and has many unsuccessful attempts to sleep meant that automatic methods for tracking sleep, like wrist-worn activity trackers, were ineffective, an important lesson considering that good sleep data is still sought after by many in the QS community.
Visualizing his data in Tableau, he gained a sense of norms for his headache frequency and nap lengths, allowing him to test the effectiveness of a dietary intervention, the fascinating result of which you can watch in the video of his talk below:
Steven presented this talk last month at the QS Global Conference in San Francisco. To see more great talks like this, you should join us at our Europe Conference on September 18 and 19th in Amsterdam. We have a limited number of early bird tickets available, so make sure that you don't miss out by registering!