The 2013 Quantified Self Europe Conference Roundup
May 16, 2013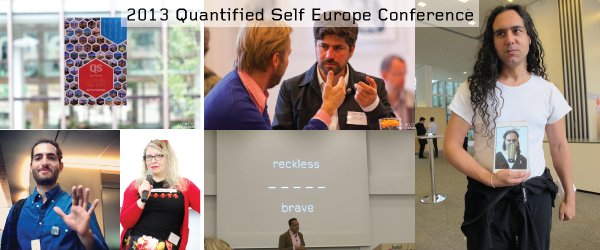 This past weekend we hosted the 2013 Quantified Self Europe Conference. Over 275 self-trackers, toolmakers, scientists, and enthusiasts came together to collaboratively learn about creating "self knowledge through numbers." It was an amazing conference that featured over 100 different presentations that included insightful show&tell talks, thoughtful breakout discussions, rapid-fire Ignite talks, and inspirational plenary presentations.
We're currently processing all the videos from the conference and will be posting those soon. Until then we thought it would be nice to highlight all the great posts, videos, and pictures that our community has been putting together to document their QS Europe Conference experience.
Blog Posts:
Don't Life Log Me: Quantified Self 2013 in Amsterdam by Hans De Zwart.
The Great Memoto Experiment & Quantified Self Conference Recap by Kitty Ireland.
The Missing Trackers  & You, Me, Them: Who is the Quantified Self by Whitney Erin Boesel
Quantified Self Europe 2013 by Winslow Strong
The Quantified Self by Joerg Blumtritt
Quantified Self Europe 2013 Amsterdam by Yago Veith
Dreamboard at the QS Conference Europe 2013 by The Dreamboard Team
Memoto at the Quantified Self Europe 2013 by Niclas Johansson
See your self in Quantified Self Europe by Ian Forrester
Looking back on the QS Europe Conference by Iskander Smit
Intimacy, Innovation and Emotion: My 1st day at Quantified Self Europe 2013 by Clement Charles
Quantified Self Conference Europe 2013 & breathing_time at the Quantified Self Conference by Danielle Roberts
My Learning from the Quantified Self Conference  by Oliver Kozak
5 Major Takeaways from the the Quantified Self Conference in Amsterdam by Mark Moschel
Videos:
Our conference videos from the many different Show&Tell talks and our Plenary presentations are coming online. Look out for them on the conference video page.
In collaboration with Fast Moving Targets a few of our conference attendees were able to share their self-tracking stories and thoughts on Quantified Self:
Mikko Ikola: Soylent is a healthy menu of olive oil, pills and powders
David Reeves (Limeade): Self improvement leads to a happier workforce
Joshua Kauffman on Quantified Self, the movement and the trends
Winslow Strong: You don't need to rely on a doctor anymore for measuring
David Hume (Discipline X Games): We make weight loss the rock n roll for middle aged men
Fu-Chieh Hsu (TrueSense Kit): Our brain is the most complex thing in the universe
Danielle Roberts: The focus in my art is on creating awareness.
Teemu Arina: Sharing data with a community is very motivating
Gustaf Kranck: I want to solve the mistery of the mind
Oliver Kozak: The joy of Quantified Self is learning about yourself
Giorgo Baresi (In The Flow): Now is the time to make Quantified Self mainstream
Ian Li (Google): Knowing the problem is the first step in fixing a problem
Yuri van Geest: We are at a Gutenberg moment of healthcare
Mark Leavitt: Data has power because it tells you a story
Nell Watson (Poikos): More data means more informed choices
Mark Kramer (Razorfish Healthware): Quantified Self improves communication
Ian Forrester (BBC): We research how personal data and storytelling can be combined
Daniel Gartenberg: 76% of people track something. At the moment I track my mood.
Hind Hobeika (Instabeat):Quantified Self can definitely be for everyone
Stuart Calimport: Aging can be overcome
Memoto logs your life in pictures
Photos:
We had some amazing photographers among our attendees who have graciously placed their beautiful images in the 2013 Quantified Self Europe Flickr Group.
Also, check out these awesome mind maps from Wimme Klaver!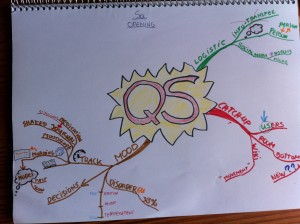 Thanks to everyone who participated, volunteered, spoke, shared, and made our conference an experience to remember. We can't wait to see you all again!
Header image mashup courtesy of Sara Marie Watson, Yago Veith, Ian Forrester, and Rain Ashford