The State of Quantified Self: A Year of Growth
March 9, 2011
Here's a snapshot of where Quantified Self is now and how we've grown in the past year – the chart titles summarize the growth extrapolated out from 10 months to a full year.
Thanks and congratulations everyone!.
QS Meetup Members Grow 3x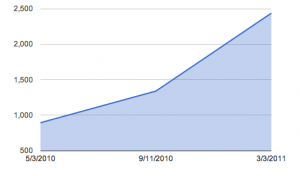 Number of QS Groups Grows 6x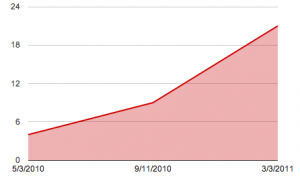 Check out the newest QS groups in Pittsburgh, Cape Town, Hawaii, Los Angeles, Vancouver, Marin, and Houston.
Monthly Pageviews of QS Blog Grow 5x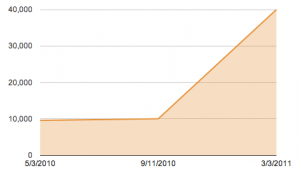 Comments on QS Blog Grow 3x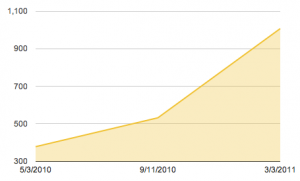 Number of QS Videos Grows 4x
Total Views of QS Videos Grow 4x
Blogosphere Mentions of QS Grow 3x
QS-Related Tools/Companies Grow 3x
QS Revenue Grows 150,000x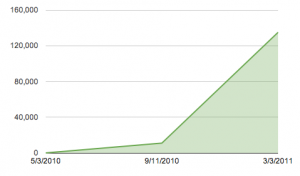 The revenue growth is primarily from sponsorships and registrations for our upcoming conference (still some tickets left!), as well as a grant to build The Complete QS guide to Self-Tracking. Given the strong social mission of QS that Kevin and Gary established, we are dedicated to re-investing this revenue into projects that support the global QS community, including meetup groups, conferences, and online platforms.
So that's where we are now!