Toolmaker Talk: Sam Liang (Placeme)
December 16, 2011
This is the sixth post in the "Toolmaker Talks" series. The QS blog features intrepid self-quantifiers and their stories: what did they do? how did they do it? and what have they learned? In Toolmaker Talks we hear from QS enablers, those observing this QS activity and developing self-quantifying tools: what needs have they observed? what tools have they developed in response? and what have they learned from users' experiences?

Location tracking apps and geo-tagging are becoming ever more common, and self-trackers have been finding ways to mine the data. The QS Amsterdam meetup group has featured many interesting talks (see Victor van Doorn, Joost Plattel, and Willempje Vrins and Leonieke Verhoog). At the QS Conference in May, Naveen Selvadurai of Foursquare showed how "check-in" data could be analyzed to understand your life. Now, Sam Liang, CEO of Alohar Mobile, and previously architect of Google's Location Server, wants to make collection and analysis of personal location data much easier.
Q: How do you describe Placeme? What is it?
Liang: Alohar Mobile's PlaceMe application is a tool to automatically remember all the places I have been to. It generates statistics like when I went there, how much time I spent there, how often I go there, etc. It also classifies the places I visited based on their categories, such as gyms, restaurants, parks, etc.  It is available now for Android phones and soon will be available for iPhones.  It will also remember the motion activities, such as how often I walk, how fast I walk, how much I drive, how much time I'm stationary.  It captures memories for you, and enables you to search your past for quick recall of the places you've visited.
For people who are conscious about themselves, Placeme helps them keep track of their activities, and better understand themselves.  People are always busy, and often forget to record what they want to log. Therefore, people need a tool to automatically remember things for them.  Placeme is such a tool.
Placeme can also be used to understand people's personal activities and health habits, and help people improve their lives.
Q: What's the back story? What led to it?
Liang: I have always been curious about how I spend my life everyday. I always wished there was a tool that can journal my life automatically, understand my behavior and habits, then intelligently suggest things to me, which can help me improve my time management and improve my life as a result.  As one example, although I often try to change some bad health habits, I almost always fail, because I'm busy working on something all the time, and can't remember what I should do, and I'll always regret it afterwards.  So I'd love an intelligent personal assistant to help me achieve all of these.
When I was the architect for the Google Location Server, I realized that smartphones today have so many great senses.  They can see, touch, and hear, in addition to sensing location and motion. With all these sensor data, the phone can learn so much about the mobile user, and can infer a lot about the user's habits, interests and can predict future needs. So I wondered why can't we make mobile phones more intelligent and help people automatically without requiring them to do everything manually.  So I founded Alohar Mobile with a couple of friends from Stanford to pursue this dream.
Q: What impact has it had? What have you heard from users?
Liang: I have been running Placeme for Android and its predecessor for over a year. It has given me a lot of interesting insights, such as how much time I spend at work, at home, how much time I spend commuting, how often and how much time I spend playing tennis.  For example, I noticed that in the past several weeks, because we are working so hard on our next release of Placeme, my work time has significantly risen, and I didn't play tennis for 4 weeks!  Seeing this data, I decided to go to swim at YMCA in the morning to increase my work-out time. Also, I saw that I spent far more time in office than at home for several weeks, to adjust the balance between family and work, I changed some of my work-hours, so that I can spend a bit more time with my family and I'll do some additional work at home after the kids go to bed.
It automatically captured all the interesting places I visited during my trip to Alaska last summer and allowed me to easily reminisce about my trip. Interestingly, it also captured my black Friday shopping trips and the data showed me how much time and gas I wasted while driving around to and from the stores and malls, etc. The first screenshot (below) shows the places I spent some time at that day; the second screenshot shows some of the data Placeme automatically calculated from my location data; the third  is a pie chart I made myself from that data.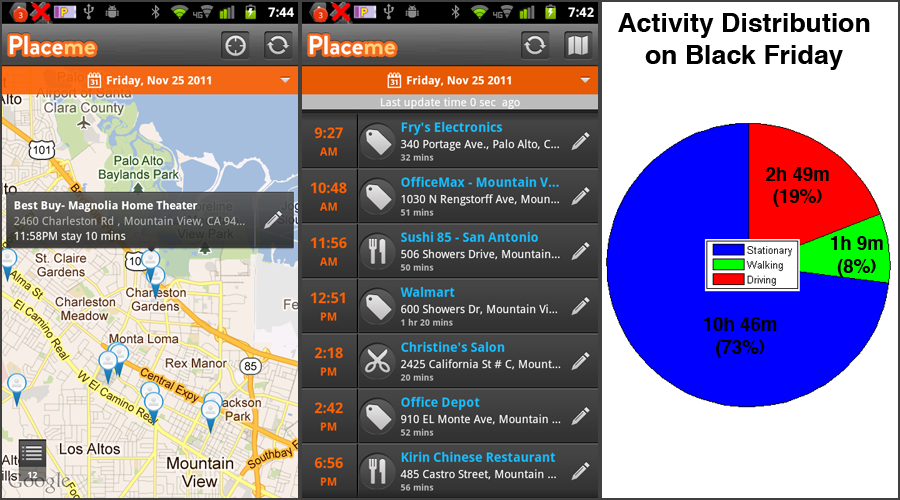 We are still in our early stage, however, we've got dozens of enthusiastic beta testers running our application now. Many beta testers told us that they discovered some interesting facts unknown to themselves before, such as how much junk food they are having each week, how much time they actually spend walking, or going to the gym, and how much time is wasted commuting everyday.
Q: What makes it different, sets it apart?
Liang: Placeme has a number of unique features. The most important feature is that, in contrast to some existing applications, Placeme does most of the work automatically. Once the application is installed, it runs in the background, and requires no user assistance. It remembers all the data automatically, and it automatically generates the analytics results (daily, weekly, and historical) and presents them to the user. The user is not required to manually open the application, except when the user would like to see the results.
So Placeme requires little effort from the user, and makes it easier to be adopted.
Also, Placeme uses some intelligent power management algorithms (patent pending) to reduce battery consumption caused by sensor sampling. Though there is still a lot of optimization for us to do, we believe we have achieved one of the best battery life scores among such apps.
It runs on a smartphone, which most people are already using today. The user doesn't need to carry a separate data gathering device (like Fitbit).  All he needs is his smartphone running the Placeme app.  In addition, the application is always connected to the Internet. So it can automatically save data to the cloud, have the cloud run sophisticated analytics algorithms, search for related info over the Internet, and then generate more interesting recommendations to the user.
In the mean time, all the data is kept private, and the user has full control of the data.
Q: What are you doing next? How do you see Placeme evolving?
Liang: The Android app has just launched, and we are currently developing the iPhone app.
We have an ambitious plan to build more and more intelligent features to better understand people's habits and intentions, and make recommendations to help them improve their lifes.  In the long run, we see Placeme evolving into an Intelligent Personal Assistant.
In a future version of Placeme, we want to offer a reminder service to notify people to break from bad health habits, and form good ones. For example, when our app detects that the user has been stationary for too long today, the app will automatically talk to the user and ask him/her to take a walk. Also, when our app detects that the user has visited junk food restaurants 3 times in a week, the app will send a warning to the user and recommend healthy alternatives.
We realize that we won't be able to build all the great future features by ourselves, so we plan to offer a platform to make the technical functionalities available through an open API. Therefore, any mobile app developer can use our SDK and open API to build their own unique mobile applications by leveraging the mobile data collection and data analytics algorithms we have already developed.  In addition, several mobile health application developers want to leverage the infrastructure Alohar is building, including the power-efficient data sampling algorithms and the mobile sensor data analytics system running in the cloud.  And, several mobile game developers would like to use Alohar's infrastructure to build more personalized games. (Developers interested in SDKs and APIs: info@alohar.com)
Q: Anything else you'd like to say?
Liang: The QS group is very passionate about self-measurement and self-improvement. We would like to invite more QS members to try Placeme so we can learn your feedback and suggestions for additional features.
Product: Placeme
Website: https://www.placemeapp.com and http://www.alohar.com
Platform: Android (now); iPhone (soon)
Price: free
(If you are a "toolmaker" and want to participate in this series, contact Rajiv Mehta at rajivzume@gmail.com)