Tracking and The Brain: Joost Plattel
August 1, 2018
Joost Plattel studies chemistry and loves experiments. He discovered while running experiments on himself that the simple act of tracking had a profound affect on how his brain functions. In this talk, Fitting Mental Models, Joost shares some of those discoveries.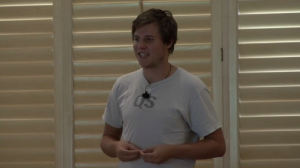 During the last three years of tracking his food, activity, and productivity, Joost noticed his brain functioning differently. For example, when he is actively tracking his food, his brain retains what he ate all week. When he isn't tracking, he doesn't have the same recall.
Do you notice the same mental adaptation when tracking? Come share your experience with us at QS18 in Portland on September 22-23! Register here.