Tracking Fight or Flight at the Office
May 20, 2015
Today's guest post comes to us from our longtime friend and QS community member, Paul LaFontaine. Paul will be joining us at the QS15 Conference & Expo to share his expertise on tracking and making sense of heart rate variability. Read below, and then join us on June 18th through the 20th for three amazing days of talks, sessions, and meeting amazing innovators like Paul.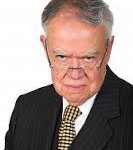 Have you every had to give a briefing to the Big Boss, the Boss above the person you report to? And in that have you ever gotten this look?
And when you got that look your brain just froze? You could not think of what to say? The start point for my work in Quantified Self was to try and understand that "freeze" phenomenon and how to train myself to experience it less. I negotiate a lot for business and my hypothesis was that control of physiological reactions in meetings could make me a more effective negotiator.
I had an excellent opportunity to see how I was doing this week as I briefed not one, but SIX Big Bosses. Nine people total were in the room. One Boss had showed up uninvited because he opposed the concepts being discussed. And to make matters even more fun, I was told I was the primary presenter thirty minutes before the meeting. After hearing that I thought, "This will be a great HRV reading."
The meeting was on a controversial topic and several of the Big Bosses did not agree on how to resolve it. I had been asked a few weeks earlier to help create a resolution. We were scheduled for an hour. There were two points in meeting I remember feeling the "brain freeze" moment and had to push on by looking at the slide and restarting my mental engine. Because of the late notice that I was the presenter I could not use my standard practice of memorizing the material prior to a high intensity presentation. Here is my reading for the session: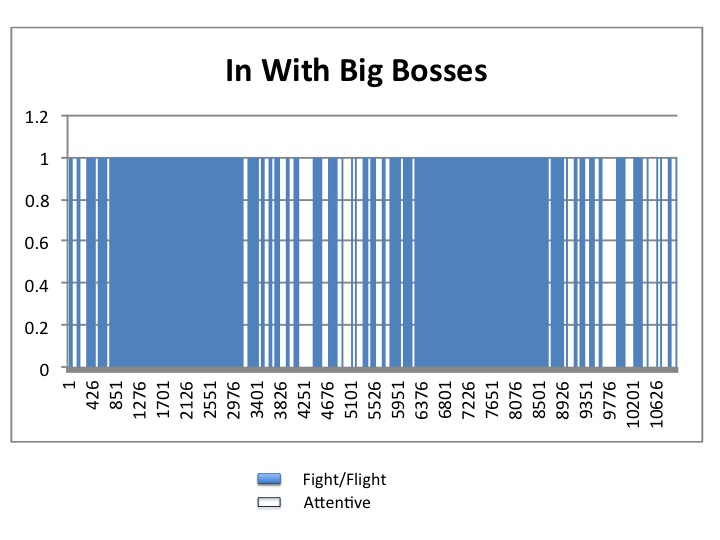 This reading recalls the shape of the meeting very well. At the start each of Big Bosses tried to steer the meeting toward a resolution they thought was best. Big Bosses can't help it, they get paid to steer. The Biggest Boss kept coming back to "let's let him go through the material." The dark blue from interval 426 to 2996 was me trying to get a word in edgewise.
In the middle of the meeting I had made my points and the Big Bosses began debating the merits of the resolution. As the spotlight moved from me I did deep breathing, listened and took notes. My memory of that period was that my brain was turned back on and I could feel a lighter feeling in my chest and head. The reading shows that I dropped from Fight/Flight as indicated by the white spaces from interval 2996 to around 6000.
Then the Biggest Boss said something to the effect that the resolution I had presented was incomplete. You can see around interval 6000 I go back into Fight/Flight as I was trying to explain how the missing part he was concerned with actually was completed. This lasted for a good period because other Big Bosses saw this as an opportunity to re-introduce their specific personal points and we were off and running. It was in this period I recall a specific "freeze" moment regarding a question on a detail that I resolved by having the group look at a different slide.
Finally I was able to get the Big Bosses to turn to the last slide where there was a collective "Oh, here it is" and you can see around interval 8900 my physiology begins to relax. The part of the resolution they were looking for was there. To my recollection the room relaxed as well. Some jokes where shared and people began to prepare to summarize and end the meeting.
During this hour long meeting I was in Fight/Flight 46% of the time, a full 27 minutes. I can't reveal any details of the meeting, but I can believe that quality of my answers was more reactive and less thought out during those two periods. My personal variability training did make an important contribution as I was able to break up the 27 minutes into two periods that each had a specific topic I was "fighting" to make. In the first period I was concentrating on getting my main points across. Once done I was able to use my breathing and get myself to a relaxed state where I had ticked the box of "points made." When the second period started I was only "fighting" to show the one completion point. I believe that if I had not allowed myself a completion state in the middle I would not have been as focussed on a single point which I was able to make in the end.
To see how much the environment like a meeting can change very rapidly, I had the opportunity to measure a meeting immediately after the meeting recorded above. As in I walked from the conference room for that meeting to the office for the meeting in a period of five minutes. I already had the kit ready so I just hit "record" for the second meeting.
In this second meeting I was brainstorming with a colleague on how to handle a problem that would play out over several months. There was no urgency, the colleague and I get on well and we were coming up with good ideas. Here is the reading: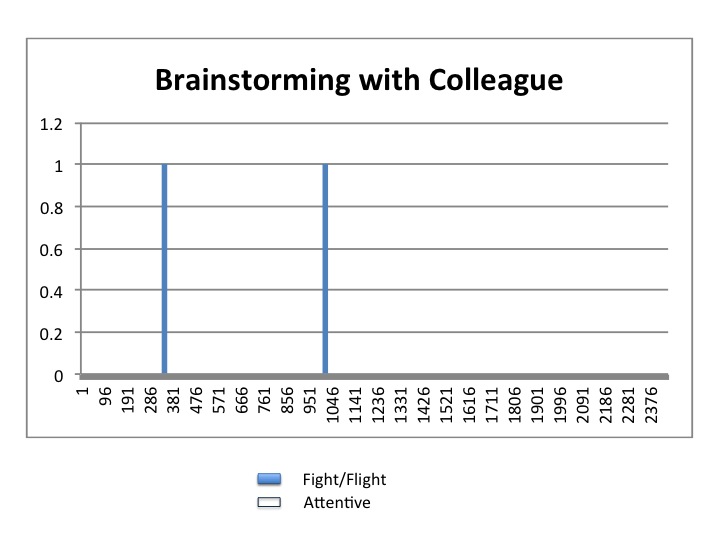 That means I came from a pretty intense Big Boss meeting where there was a lot of Fight/Flight, did a BreatheSync session for two minutes and entered the second meeting. In this one there was very little Fight/Flight at all and it was a very productive 35 minutes.
Breathing tools, understanding how the physiology reacts when meeting with the Big Bosses and finding the balance between Fight/Flight and relaxation can improve both how you prepare, and how you ramp yourself down when in an intense situation. And these same tools allow a fast transition to a new environment where you can be productive as appropriate for the situation.
I will be presenting more about how I use heart rate variability at the Quantifed Self Conference and Expo in San Francisco June 18 – 20. I look forward to it and I look forward to meeting many of you there.