Bay Area QS Show&Tell #16 – Recap
October 9, 2010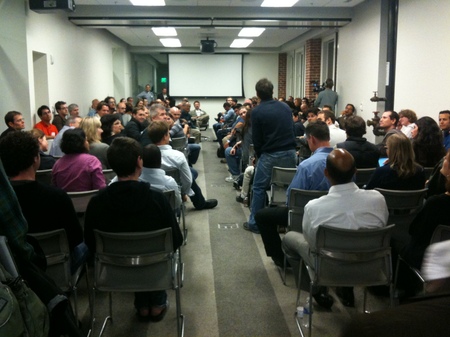 It was another electric night. On Wednesday, 124 people gathered at the futuristic Autodesk Gallery in San Francisco for the 16th Bay Area QS Show&Tell. The theme this time was location, transportation, consumption, and energy.
The workshop part of the evening seemed to take off this time, with buzzing groups forming around half a dozen people showing their projects at dedicated tables. Thanks to everyone who brought something to show – I didn't get everyone's names and links, so feel free to leave a comment below and point us to your project!
At 7:30, everyone sat down to hear 7 fast-paced talks…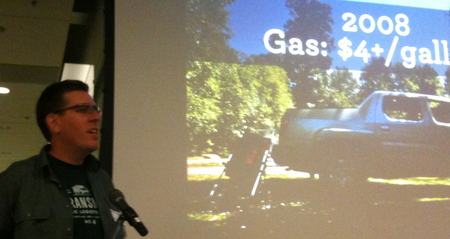 Matt Haughey from Fuelly kicked off the presentations. Fuelly lets people track, share, and compare their gas mileage data. The data is all public, and a million fillups have been recorded so far. Matt talked about his efforts to move from 18 to 20 mpg – it required a great amount of concentration, and only ended up saving him $6.

What has Matt learned from running Fuelly? After 10 fillups, you know what your average is, so it is a challenge to get people to keep coming back to enter data that doesn't change much. Also, he chose not to have leaderboards of any kind, since they are just an invitation for gaming the system.

Up next was Max Winter Osterhaus, whose tagline was "I make charts." Max has been tracking all of his purchases and consumption for the past 5 years in incredible detail – right down to the kind of fruit or bread. He said combing through receipts has become somewhat of an addiction. After a while he felt like the data didn't mean anything and wasn't integrated into his life, so he started making visual charts for his body, garden, and other systems in his life. One of Max's charts is below.

Why does Max do this? He wants to understand the complexity of his life, supplement his memory, and see how everything fits together. A surprising thing he learned was that he spends $2,200 per year on food, and $1,000 on his cell phone.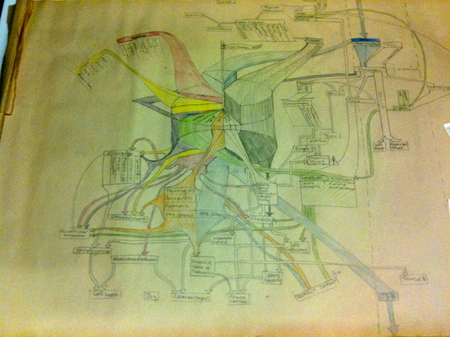 Eri Gentry introduced the Butter Mind/Coconut Mind experiment, which she will post about soon on this blog.

Sastry Nanduri from HealthTap talked about the recent "hacking 4 health" day and the growing HealthTap Developer Network. Gary suggested having a "hacking personal data" day to continue the trend.

Andrew Hessel from Singularity University gave an engaging talk on his 2010 flight log. He has traveled 79,922 miles this year – 57 flights, 22 airports, 16 percent of his days with some part of the time in the air.
Unlike the other speakers, Andrew does not track with an implicit or explicit goal to minimize consumption.
We didn't have time for questions, but an audience member later expressed concern about the environmental impact of so much air travel.

Indhira Rojas told us about her thesis project
Indexer, a database for tracking consumption and managing waste. She wants to h
elp people answer 2 questions: How much do I throw away? and How do I recycle
properly?
Indhira studied 7 households and photographed all of the
waste they threw away or recycled. She noticed a great deal of confusion over how to properly recycle, and was able to observe lifestyle patterns from the kinds of trash produced.
Indexer will help people index purchases from their receipts and give them insight into how frequently they buy certain items, as well as details like whether they
use more glass or plastic.
Dirk Aguilar closed out the night by showing us charts of his
energy consumption – electricity, gas, driving, and flying. He annotated his graphs with trips and life changes like working
from home and learning how to make pizza, which helped him
understand how his energy use was affected by variables other than the outside
temperature.
Dirk was surprised to learn that while his gas usage dropped during periods of travel, his electricity usage remained high from all of his
appliances passively consuming energy. He is using his data to help make decisions about how to be a green consumer without breaking the bank.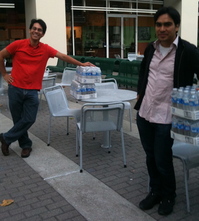 Finally, a gigantic THANK YOU to our sponsors for the evening. Autodesk, HealthTap, and a new annual sponsor for QS, CureTogether!
And here are the real superheroes – Bo Adler and Carlos Olguin, who helped me carry heavy cases of water bottles through 4 San Francisco city blocks and set everything up. Pierre Couteau and Chris Finlay helped with clean up, and Julia Papapietro helped the whole evening go smoothly, so a big thank you to all of you!
Stay tuned for the videos, to be released soon.