College Performance by Tiffany Qi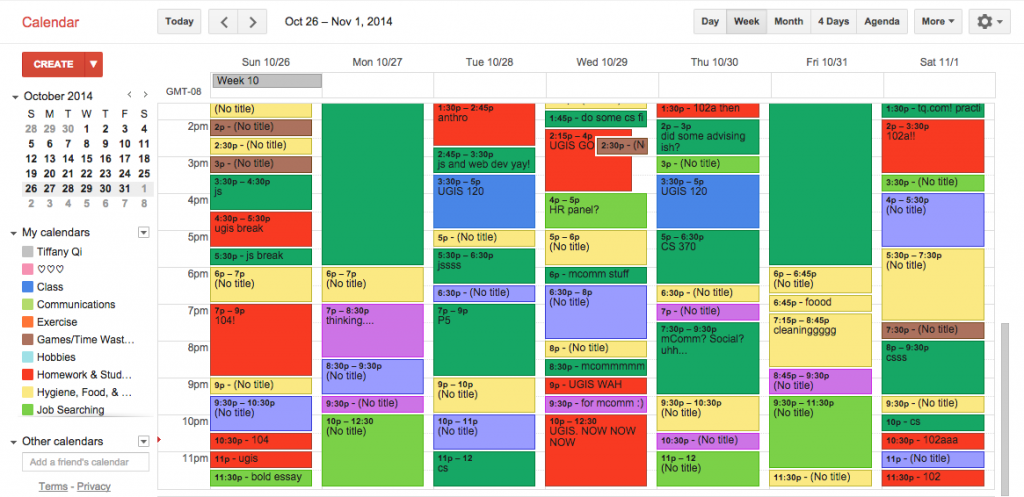 February 13, 2017
I think I spent more time flailing than planning in college. Though I'm not sure, because I don't have the data. Tiffany Qi does, though. During her four years of undergrad, she meticulously tracked her time, putting it in one of several categories, "planning" being one of them. Now that she has her degree in Business Administration, she spent some time analyzing the wealth of data she collected as an undergrad. For this talk, given at the a Quantified Self meetup last month in Berkeley, California, she focused on the relationship (or lack thereof) between how she spent her time and her academic performance.
In particular, she explored the following questions:
Did her commitment to her studies wane over time?
How much did time spent studying matter for her final grade?
Did the amount of time spent on fun help or hinder her grades?
Did having a job or other job-like responsibilities lower her grades?
You can watch the full video at Tiffany's QS project page. For a more detailed look at this project, Tiffany wrote about it here and here.
Tools used:
-Google Calendar
–CalenTools (Tiffany's custom tool that she made for this project)
Get your tickets for QS17
Our next conference is June 17-18 in lovely Amsterdam. It's a perfect event for seeing the latest self-experiments, debating the most interesting topics in personal data, and meeting the most fascinating people in the Quantified Self community. There are only a few early-bird discount tickets left. We can't wait to see you there.