May 1, 2011
This is a guest post from Ted Vickey. Thanks Ted!
—
As part of my PhD in physical activity, social networking and technology, I have been wearing two devices that have monitored my daily activities – FitBit and Body Media.
This post is not about discussing the devices, you can find information about each on their websites. I am interested in comparing the data collected on the same day, doing the same activities.
For April, this is what was collected with regards to the number of steps I took per day: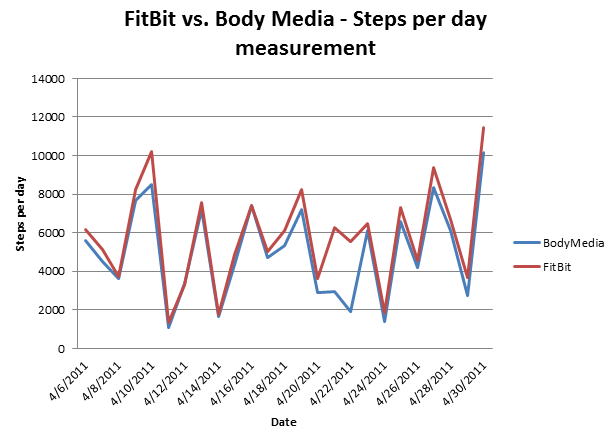 Each device was worn as suggested per user directions.
In all but two days, FitBit recorded more steps on the day than did Body Media.  The average difference per day was around 589 steps per day, two days showed a greater than 100% difference in the number of steps.
To early yet to determine why.  I will continue to wear both and look at additional data as it become available.
—
Has anyone else noticed this discrepancy in step measurement? Ted is currently talking to the CEOs of Body Media and FitBit, and will report his findings at the upcoming QS conference.