Stanford Students Design for Lifelogging
March 7, 2011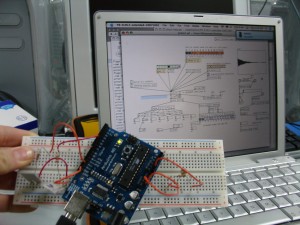 Next Monday, Stanford students will show off their designs around lifelogging and mobile sensing. Here is the announcement from Jeff Heer, Stanford professor and Quantified Self advisory board member:
We're having an action-packed year in the Stanford HCI program — in addition to celebrating the program's 20th anniversary, we're presenting a number of exciting new research projects at CHI 2011 and HCI courses are hitting record enrollments. Check out http://hci.stanford.edu for the latest.
Continuing the tradition, on Monday 3/14, 15 student teams in CS247 HCI Design Studio will be presenting their design explorations around the theme of "Lifelogging: mobile and online sensing for public or private good". Come experience a variety of applications seeking to enhance our everyday lives – and meet top graduating students passionate about interaction design.
We will begin with food and socializing at 6pm at the d.school; short student presentations will commence promptly at 6:30pm, followed by a demo & poster session.
For more information and directions, visit:
http://cs247.stanford.edu/2011/show
Hope to see you there!
Jeff & the CS247 Staff