Resolutions and Self-Tracking
January 7, 2011
You probably made some resolutions for this new year. To help you meet your goals, give self-tracking a try. Self-tracking can help you view your progress, control your behavior, and understand problems that prevent you from reaching your goal.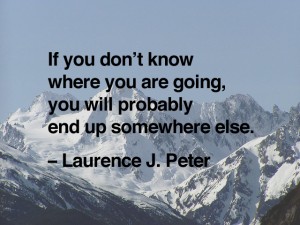 Self-tracking can help you track your progress towards reaching your goal. From day to day, it's easy to remember whether what you're doing is different from the day before. However, over a long period of time, it's hard to see whether you're making adequate progress. The collected data about your behavior and habits can aid your memory and serve as an objective view of your progress. Additionally, seeing your progress can motivate you to keep striving.
The daily practice of self-tracking requires you to watch your behavior and habits, which keeps you aware of what you're doing and mindful of your goal. Additionally, reviewing your data over time reminds you of what you have done in the past, so that you know what to repeat or not repeat in the future.
Self-tracking can also alert you of problems that prevent you from making progress. When you review your data, you will probably find trends and patterns, which can help you determine what causes some of your behavior. With this information, you can more effectively change your behavior to meet your goals.
To start, determine the data that you should collect for each of your resolutions. For example, if you're interested in improving your sleep, the relevant information to collect might be the time and quality of your sleep, your caffeine intake, and your physical activity. You might need more or less data, so some research or trial-and-error will help you determine what data is useful for you. Once you've determined the data, visit Personal Informatics Tools to find tools to help you collect data. The Quantified Self also has articles compiling different tools for different categories: lifestyle, lifelogging, goals, food, fitness, location, mood, and energy.
Below is a list of resolutions, some information that might be relevant for each, and tools to help you collect data.
| Resolution | Relevant information | Tools |
| --- | --- | --- |
| Go running | mileage, location | pedometer, RunKeeper, Nike+iPod |
| Eat better | type of food, calories | DailyBurn, Livestrong |
| Sleep better | time and quality of sleep, caffeine, physical activity | Zeo, WakeMate |
| Productivity | application usage | Slife, RescueTime |
| Others | Any type of data | Daytum, Quantter |
Crossposted from HealthTap.
Featured image was adapted from a picture by Bill Saturno.