How To Measure Mood Using Quantified Self Tools
January 17, 2013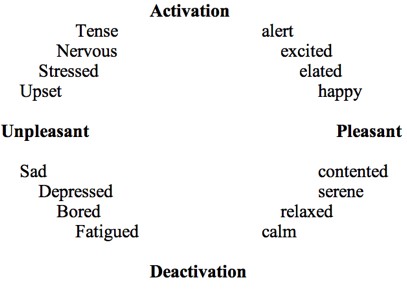 Here is a brief roundup of some of the things we've either collected or written about tracking mood since we first started paying attention to mood tracking back in 2008.
Get Your Mood On

Alex Carmichael and Robin Barooah have recently completed work on an excellent book detailing their experiences and knowledge gained from years of mood tracking. We've already posted the first three chapters of their book and are excited to bring you more in the upcoming weeks.
Mood Tracking  Show & Tell Talks

Mood tracking is also a popular presentation topic at our worldwide Meetup groups. Here are a few of the talks from the last year that discuss personal mood tracking projects.
Mood and Music: A person with bipolar disorder tells his story of health insights through accidental lifelogging. He has been using last.fm over the past 7 years to track his music listening and compare it with his friends' music patterns.
Marie Dupuch on Mood Tracking With Colors: Marie created a rating scale based on colors as a visual metric, and a self-reported quantifiable metric, to gauge her mood over periods of time. This led her to have more awareness and provided the information she needed to make confident choices in her own life.
Erik Kennedy on Tracking Happiness: Erik was interested in what makes him happy so he started tracking it. After categorizing hundreds of events he shares what makes him happy, what doesn't, and some very thoughtful takeaways.
Mood Measuring Tools
Here's a list of some of the mood measuring tools we've covered in the past and used in our personal lives. This list is by no means complete so if you use a mood tracker we don't mention be sure to add it in the comments!
The Science of Mood Measurement
For deeper background on the scholarly work and controversy about how mood is measured here's a long post by QS Founder Gary Wolf: Measuring Mood: Current Research and New Ideas.
What do you do to track mood? What have you learned?